Edwy Plenel, author of For the Muslims, calls for a vote against Le Pen and for Macron on May 7, not in order to endorse his programme, but for the sake of defending democracy as a space of free contestation, including in the face of the En Marche! candidate's own policies. First published in Mediapart, which Plenel founded.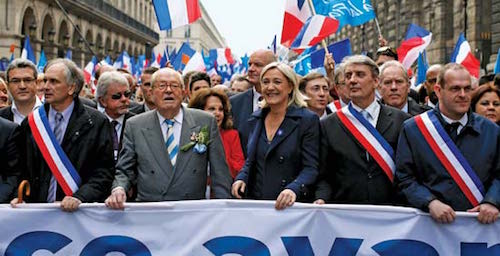 Marine and Jean-Marie Le Pen lead an FN march, 2014.

To vote against Le Pen by voting for Macron is not to vote for this latter's programme. It is to vote to defend democracy as a conflictual space, traversed by divergent interests and competing causes. A space where its contradictions, its pluralism, its diversity, its claims and its hopes can freely express themselves — including faced with the policies of a Macron presidency.