In The Imperial Archive: Knowledge and the Fantasy of Empire, published by Verso in 1993, Thomas Richards analyzes the proliferation of information systems in the British Empire, and the ways in which this link between state power and the measurement of fact were expressed in literature.

"Most Victorian epistemologies presupposed a superintending unity of knowledge," Richards writes. "A comprehensive knowledge of the world was for most of the century the explicit goal of all forms of learning." Later in the introduction, he continues: "this system-building impulse was the imperial archive's greatest inheritance from a philosophical tradition that posited a universal and essential form of knowledge, the tradition of Leibniz and Kant and von Humboldt, but it also took much the same ideas from a source nearer to hand, English Romanticism."

In the excerpt below, Richards considers three narratives of monstrosity — Lewis Carroll's Alice novels, Bram Stoker's Dracula, and J.G. Ballard's The Crystal World — in the context of the evolution of the science of morphology.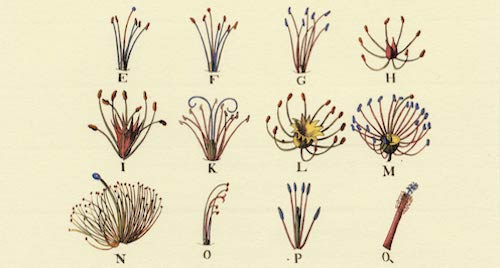 Detail from Georg Dionysius Ehret's illustration of Linnaeus's sexual system of plant classification, 1736. via the Linnean Society of London.

This chapter is about the place of monstrosity in the nineteenth-century imperial imagination. Until Bram Stoker's Dracula, there are few monsters in Victorian fiction. In Victorian literature ghosts, those images of a nether world replete with human significance, are more common than monsters, and it is worth asking why. Victorian travellers like Richard Burton and Henry Stanley never saw monsters. In his Voyage of the Beagle (1831-36) Darwin travelled around the world without seeing one. Thomas Henry Huxley doubted whether monsters ever existed, even in the distant past. In Poe "monstrous" is always an adjective, never a noun, and monstrosity resides in the behavioral perversions of the self, as it does in Lombroso, where the monster is the criminal. In Victorian gothic it is the natural landscape that is monstrous. Even in the murky world of imperial gothic, as in Haggard's She (1887), there are no monsters of nature save for a woman who lives on eternally in a dead city. Why are there no monsters in Victorian literature?