Sociologist Razmig Keucheyan, a professor at the Université Paris IV (Sorbonne), reflects on the fallout of the French presidential election. First published in Spanish at Nueva Sociedad, and then revised in French after the first round results for Contretemps. Translated from the French by David Broder. 


For the first time under the French Fifth Republic, neither of the two main parties (the Socialists and the Republicans) managed to reach the second round of the presidential election. What does this change in French politics represent, also taking into account the particularities of Marine Le Pen and the dizzying rise of Emmanuel Macron?

Marine Le Pen and Emmanuel Macron are two different cases. It had long been predicted that Marine Le Pen would be present in the second round. That did not surprise anyone: all the surveys said that this would happen. People had so much taken this for given that there were few protests on the evening of the vote.
Socialist candidate Benoît Hamon's campaign is now at an impasse, because he couldn't see that the neoliberal fox would refuse to accommodate to the socialist hen, while Mélenchon takes an opposing strategy, write Cédric Durand and Razmig Keucheyan. First published in Libération. Translated by David Broder.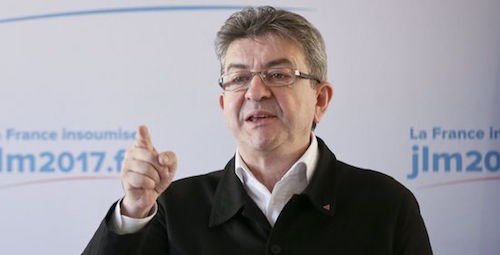 Elections were for long time rather boring. Carried forth by a liberal wind, there was a seamless exchange of office between the self-assured Right and the lightweight Left — these wholehearted converts to market modernisation — in the eternal present of capitalism. Capitalism had been made master of a globalised space and a financialised time. Endemic unemployment, consumerist exultation and terrorist/criminal horror made up the three dramatic extremes of a little game buzzing along, spiced up only by the candidates' antics or the scenes made by betrayed friends.
This text was written for a discussion devoted to the collective volume Marx & Foucault. Lectures, usages, confrontations (eds. Christian Laval, Luca Paltrinieri and Ferhat Taylan. Paris: La Découverte, 2015), held at Paris's Lieu-dit literary café on 28 January — and published in Contretemps. Translated by David Broder.


To this day, there have been only a few analyses of the links between Marx and Foucault. The introduction to this volume does mention some, but here we can also see how few there are. This is surprising, for these two authors count among the critical theorists who had the greatest influence in the twentieth century. It would take precise bibliometric analyses to prove it, but there can be little doubt that Marx and Foucault are the most frequently cited references in contemporary critical thought. So one first reason to welcome this book's publication is that it fills a gap.