Claudio Gallo's interview with Debbie Bookchin was first published in La Stampa.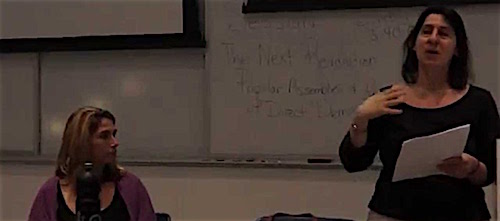 (Debbie Bookchin at Left Forum 2015.)

Abdullah Ocalan and the Kurds fighting in Kobani abanonded Marxism to embrace your father's philosophy, Communalism. What is Communalism?
Communalism is the idea that democracy works best when citizens make decisions together on the local level in assemblies. They meet face-to-face with their neighbors and discuss issues of importance to their communities. They send recallable delegates to councils to make regional decisions but power always resides at the local level, rather than with the nation-state. My father believed that these local assemblies would transform, and be transformed by, an increasingly enlightened citizenry. People could reclaim and redefine politics as something we do for ourselves rather than just voting for someone and hoping for the best. Communalism also envisions what my father called a "moral economy" in which people make collective decisions about how to use natural resources for economic production with the ecological impact in mind. 
The
New York Times Magazine
recently published a piece by Wes Enzinna about his experience teaching a journalism class in Rojava, an automous region of Syria (not recognized by the Assad regime, the UN, or NATO), a "secular utopia in ISIS's backyard" whose political philosophy is heavily informed by the work of Murray Bookchin.
Writer, science fiction icon and radical thinker Ursula K. Le Guin endorses Murray Bookchin's latest collection of essays, The Next Revolution: Popular Assemblies and the Promise of Direct Democracy for its "respect for clear thought and moral responsibility".