The Village Against the World - now in paperback!
Marinaleda, in impoverished Andalusia, used to suffer terrible hardships. Led by a charismatic mayor, the village declared itself a communist utopia and took farmland to provide for everyone. Could it be the answer to modern capitalism's failings?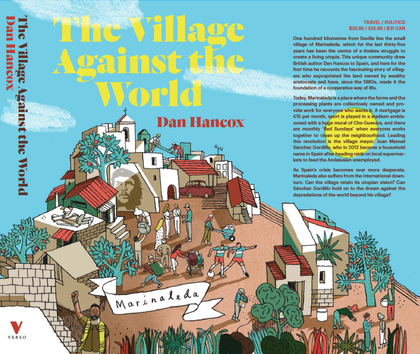 The Village Against the World
 - the story of Communist utopia, Marinaleda, by Dan Hancox - publishes in paperback this month! To celebrate, we're giving away 10 copies PLUS
a Verso tote bag
. You can win by:
RTing over on twitter
, sharing this post on
facebook
(share button below) or
liking this image on instagram
.
The competition ends at 5pm (GMT) tomorrow, Friday 20th of June. The winners will be picked at random!
*** Many thanks to all who entered. The winners, picked at random, are: Instagram @veritykeefe, @cernochghetto
 & 
@alentop / Twitter @SineadmKennedy, @jonnykeyworth, @katewebb_uk & @AgentSophieL, Facebook Marcus Bennett, Sean Gallagher & 
Oana Uiorean ***
The Village Against the World
is 40% off on our website, with bundled ebook and free shipping. That makes it only £5.99/$8.48!
"Lively and genuinely inspiring" –
 David Edgar, Guardian

"As the borderline between dream and reality shimmers in the heat of Andalucia, we begin to wonder if living as if change were indeed possible is the very key to making actual change happen." – 
Suzanne Moore, Guardian
"A thoughtful, take-nothing-for-granted account ... this engaging book is as much a study of idealism in practice as it is of life in a highly unusualpueblo. The respectful, intelligent writing places the villagers at the centre of their own story – and that story is fascinating." – 
New Statesman
"Hancox's book could not be more timely - with Spain on the brink of social crisis and the shadows of the past emerging." –
 Paul Mason, author of Why It's Still Kicking Off Everywhere
Read more here.