Ferguson and reading for Resistance

Photo courtesty @efeghali

TONIGHT, DECEMBER 4: DEMAND JUSTICE FOR ERIC GARNER, MIKE BROWN, AND ALL THOSE WHO HAVE LOST THEIR LIVES AT THE HANDS OF THE US POLICE STATE. Protests start at: 
-5:30pm Foley Square (Duane St. between Lafayette & Centre St.)
-7:00pm Sarah D. Roosevelt Park (Houston between Forsyth and Chrystie)

On Tuesday night, Boston protestors walked to the South Bay House of Corrections and chanted to inmates "We see you." In reply, inmates used tape to write "Mike Brown" on the barred windows. May the liberation struggle in Ferguson continue. 

Mia McKenzie of Black Girl Dangerous wrote a list of what not to get distracted by when a black person is murdered by the police shortly after Mike Brown's murder in August: over-simplified talk of riots, looting, celebrities, the murder victim's past, and respectability politics. It's a de facto guide to racist mainstream media coverage that consistently absolves police killing of black people, which, as she points out, happens every twenty-eight hours in the United States. The piece is as relevant today as it was months ago. In response to the Ferguson protests, she's penned another article breaking down narratives around violence that condemn looting over ignorance.
"What I want to say is this: whatever you think of looting, it isn't violence. Because violence against property isn't a thing."
What is violent?
"Cops Killing Unarmed Black People," "Revisionist History," "Your Ignorance of the Above Points and Of So Many Other Things."
"On Ferguson Protests, the Destruction of Things, and What Violence Really Is (And Isn't)," via Black Girl Dangerous

Keeanga-Yamahtta Taylor writes about the distorted portrayal of violence in the wake of protests in Jacobin, and building momentum to overhaul policing and the criminal justice system consistently view black bodies as expendable.
But in all of the hysterical reporting about violent demonstrations, there was almost no discussion about what would prompt such an angry reaction to a grand jury decision. There was no discussion about the police violence, harassment, and yes, terrorism that pervades black and brown communities in every city and state in this country...The murder of Mike Brown has created a new urgency to build this movement. It's clear that nothing other than a mass movement can stop the senseless murder of young African Americans at the hands of American police.


"
Organizing Fergusons: Nothing short of a mass movement will stop the police from killing black people
," via
Jacobin
. 
Robin D.G. Kelley
counts the black lives we've lost to the police while waiting for the grand jury's decision: Tamir Rice, Tanisha Anderson. Aura Rain Rosser, Roshad McIntosh, Darrien Hunt, Akai Gurley, and Ezell Ford—the deaths that underscore the violence behind admonitions of "law and order." Counting the murdered and watching the protests in Ferguson following Mike Brown's murder, Kelley writes, "reveal[s] the low intensity war between the state and Black people."
To the world at large, Ferguson looked like a war zone because the police resembled the military with their helmets, flak jackets, armed personnel carriers, and M-16 rifles. But African-American residents of Ferguson and St Louis proper, and in impoverished communities across the country, did not have to endure tear gas or face down riot cops to know that they were already living in a war zone—hence Mike Brown's and Dorian Johnson's initial trepidation toward the police...What we are dealing with is nothing less than permanent war waged by the state and its privatized allies on a mostly poor and marginalized Black and Brown working-class. Five centuries in the making, it stretches from slavery and imperialism to massive systematic criminalization...The Black community of Ferguson and adjacent communities experience war every single day, in routine police stops, fines for noise ordinance violations (e.g., playing loud music), for fare-hopping on St. Louis's light rail system, for uncut grass or unkempt property, trespassing, wearing "saggy pants," expired driver's license or registration, "disturbing the peace," among other things. If these fines or tickets are not paid, they may lead to jail time, the loss of one's car or other property, or the loss of one's children to social services. The criminal justice system is used to exact punishment and tribute, a kind of racial tax, on poor/working class Black people.


As Kelley points out, we should be thankful for the young organizers of Ferguson who understand that we are at war, who challenge "everyday state violence and occupation."
They remind us, not only that Black lives matter—that should be self-evident—but that resistance matters. It matters because we are still grappling with the consequences of settler colonialism, racial capitalism and patriarchy. It mattered in post-Katrina New Orleans, a key battleground in neoliberalism's unrelenting war on working people, where Black organizers lead multiracial coalitions to resist the privatization of schools, hospitals, public transit, public housing, and dismantling public sector unions. The young people of Ferguson continue to struggle with ferocity, not just to get justice for Mike Brown or to end police misconduct but to dismantle racism once and for all, to bring down the Empire, to ultimately end war.
"
Why We Won't Wait: Resisting the War Against the Black and Brown Underlcass
," via Counterpunch
Tressie McMillan
writes about the fallacy of logic and reason in the debate about the role of the US's criminal justice system.
No data, no tape, no pictures, no story, no argument, no reason can convince the winners in the game of police violence that black lives matter. If the black lives can be seen, then they fail the basic litmus test of the prevailing argument. They are not invisible.


"
Winners are mad when winning lights the shadows
," via 
The New Inquiry.


Chase Madar
, writing for the
Nation
, explains why it is impossible to indict a cop and how the system protects police.
Chapter 563 of the Missouri Revised Statutes grants a lot of discretion to officers of the law to wield deadly force, to the horror of many observers swooping in to the Ferguson story. The statute authorizes deadly force "in effecting an arrest or in preventing an escape from custody" if the officer "reasonably believes" it is necessary in order to "to effect the arrest and also reasonably believes that the person to be arrested has committed or attempted to commit a felony...or may otherwise endanger life or inflict serious physical injury unless arrested without delay.
But this law is not an outlier, and is fully in sync with Supreme Court jurisprudence. The legal standard authorizing deadly force is something called "objective reasonableness."


While many—including the Brown family—have called for police to wear cameras to be better held accountable for their misconduct, Madar points out that while video footage may strengthen police accountability, they also "[illustrate] how much leeway police have when opening fire on a subject." No criminal charges were attempted in the murder of Kajieme Powell, John Crawford III, or Milton Hall, even with incriminating video footage.

"Such videos cannot undo the legally enshrined deference to the subjective feelings of police officers when they reach for their weapons...There really is no courtroom miracle or lawsuit solution, no matter how clever the litigator, no matter how deep-dish the foundation grant, that is going to discipline the police and break them of their trigger-happy habits."


"
Why It's Impossible to Indict a Cop
," via 
The Nation. 
Madar points out that "Police shootings are only one function of living in one of the most heavily policed societies in the world." The only possible solutions require nothing less than big-picture changes; Madar suggests, among other ideas, police demilitarization, the decriminalization of working-class people, and new policing models. Though many others, such as
Alex Vitale
, have argued that a complete end to policing as we know it is the only answer. Cue Kelley's admonition "to ultimately end war."
From Ferguson:
The Results are In: An Open Letter from Protestors On The Grand Jury Decision
(posted by Deray McKesson, an organizer in Ferguson)
National Demands from Ferguson Action


Ferguson Movement Moment Rapid Giving Information: guide to funding grassroots organizations and groups on the ground in Ferguson.
From New York:
Verso staffers who attended the protests share what they saw 
We left Union Square shortly after 7, heading in the opposite direction from another group of marchers who had left the square just a little earlier. We headed down 14th to 6th Avenue, where we turned south against traffic. Weaving in between cars for the next ten blocks, it seemed that we brought traffic to a brief standstill without shutting it down, and while a few drivers were annoyed, I was surprised by the number of drivers who were honking and chanting "hands up" with their hands up in support of us, including a taxi driver and a public bus. Many of them were black or latino, but not everyone. All the while, we were getting text messages from friends on other marches about being on the FDR, in the Lincoln Tunnel, at the Holland Tunnel, on the Manhattan Bridge, on Broadway and Houston, and it seemed that we had spread throughout lower Manhattan and had probably made our presence felt on nearly every major avenue at some point, disrupting traffic along the way. After some weaving through the West Village, we headed down Christopher to the West Side Highway, where we crossed onto the southbound lane and swarmed the street as more of us kept pouring in. For many minutes, we stood, made noise and took photos of the string of headlights stretching down the highway, all of them suspended there with nowhere to go as long as we were gathered there. When we started moving again, I wanted to proceed down to the Holland Tunnel, but the cops were blocking us and we headed back to the West Village. As we filed through an underpass, our voices echoed off the ceiling and the walls.
-Audrea Lim
Photo from the Union Square memorial on Tuesday night.
-Angelica Sgouros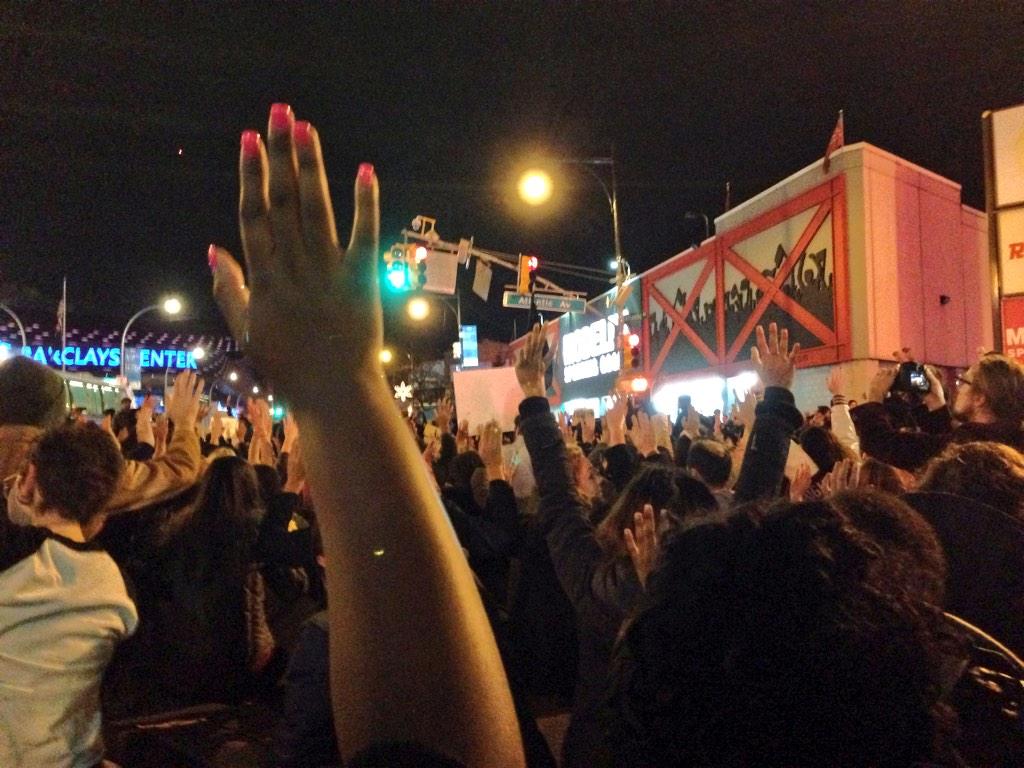 Complete silence sitting at the intersection of Altantic and Flatbush #JusticeForMikeBrown
Never seen anything like this. Oceanic turnout shut down NYC for Brown, Garner, Martin, uncounted others. Stalled cars honk in solidarity.

Bodies pouring onto bridges and highways; drivers jumping on car roofs chanting; ppl hanging out of windows, running through the streets.
-Rachel Rosenfelt
Related Books