50% off all Slavoj Žižek books through Sunday!

To celebrate the release of the paperback edition of Absolute Recoil (on sale today!), every single Slavoj Žižek title is now 50% off until Sunday at 8pm ET.
In the New York Review of Books, John Gray states that, "few thinkers illustrate the contradictions of contemporary capitalism better than the Slovenian philosopher and cultural theorist Slavoj Žižek." 
Now is your chance to collect every book in his vast bookshelf, from his plea to repeat and expand on the ideas of Hegel, in Less Than Nothing, his analysis of how Western society can face up to the end times if the end of capitalism means the end of the world, in Living in the End Times, and the connections between totalitarianism and modern liberal democracy in Did Somebody Say Totalitarianism?
You can browse every title in the Žižek bookshelf sale below and by clicking the book jackets here ==============>>>>>>>>>>>>>>>
Includes free shipping (worldwide) and free bundled ebook where available.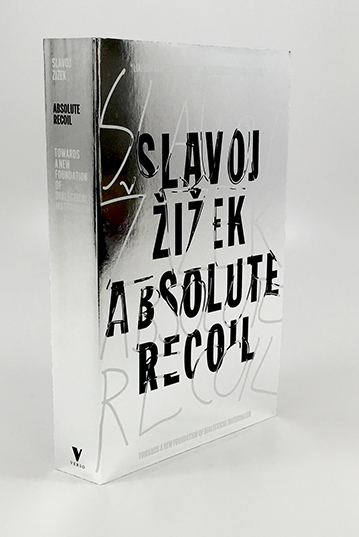 Absolute Recoil: Towards a New Foundation of Dialectical Materialism
Absolute Recoil is a startling reformulation of the basis and possibilities of contemporary philosophy. While focusing on how to overcome the transcendental approach without regressing to naïve, pre-Kantian realism, Žižek offers a series of excursions into today's political, artistic, and ideological landscape, from Arnold Schoenberg's music to the films of Ernst Lubitsch. 
"Like Socrates on steroids ... breathtakingly perceptive." – Terry Eagleton
"A great provocateur and an immensely suggestive and even dashing writer ... Žižek writes with passion and an aphoristic energy that is spellbinding." –Los Angeles Times
"The thinker of choice for Europe's young intellectual vanguard." – Observer 




All Žižek titles are now 50% off:

Comradely Greetings: The Prison Letters of Nadya and Slavoj
by Nadya Tolokonnikova and Slavoj Žižek
Introduction by Michel Eltchaninoff

Less Than Nothing: Hegel and the Shadow of Dialectical Materialism
by Slavoj Žižek

The Idea of Communism
Edited by Costas Douzinas and Slavoj Žižek

The Idea of Communism 2: The New York Conference
Edited by Slavoj Žižek

Welcome to the Desert of the Real: Five Essays on September 11 and Related Dates
by Slavoj Žižek

Mapping Ideology
Edited by Slavoj Žižek

The Year of Dreaming Dangerously
by Slavoj Žižek

Did Somebody Say Totalitarianism?: Five Interventions in the (Mis)Use of a Notion
by Slavoj Žižek

Revolution at the Gates: Zizek on Lenin: The 1917 Writings
by V. I. Lenin
Edited by Slavoj Žižek

Living in the End Times
by Slavoj Žižek

Contingency, Hegemony, Universality: Contemporary Dialogues on the Left
by Judith Butler, Ernesto Laclau, and Slavoj Žižek

Everything You Always Wanted to Know About Lacan (But Were Afraid to Ask Hitchcock)
Edited by Slavoj Žižek

In Defense of Lost Causes
by Slavoj Žižek

First As Tragedy, Then As Farce
by Slavoj Žižek

The Fragile Absolute: Or, Why Is the Christian Legacy Worth Fighting For?by Slavoj Žižek

The Plague of Fantasies
by Slavoj Žižek

The Sublime Object of Ideology
by Slavoj Žižek
The Ticklish Subject: The Absent Centre of Political Ontology
by Slavoj Žižek

For They Know Not What They Do: Enjoyment as a Political Factor
by Slavoj Žižek

Terrorism and Communism: A Reply to Karl Kautsky
by Leon Trotsky and Slavoj Žižek
Preface by H. N. Brailsford

The Indivisible Remainder: On Schelling and Related Matters
by Slavoj Žižek

On Practice and Contradiction
by Mao Tse-Tung and Slavoj Žižek

Virtue and Terror
by Maximilien Robespierre and Slavoj Žižek
Edited by Jean Ducange
Translated by John Howe

Lacan: The Silent Partners
Edited by Slavoj Žižek

The Metastases of Enjoyment: On Women and Causality
by Slavoj Žižek

Iraq: The Borrowed Kettle
by Slavoj Žižek
Related Books