For the philosopher Jacques Rancière, France's strange presidential election campaign is no surprise. He thinks that a French system that entrusts all power to professional politicians mechanically churns out candidates who claim to represent a "clean break." Éric Aeschimann spoke to Rancière for the 9–15 March 2017 edition of L'Obs. Translated by David Broder.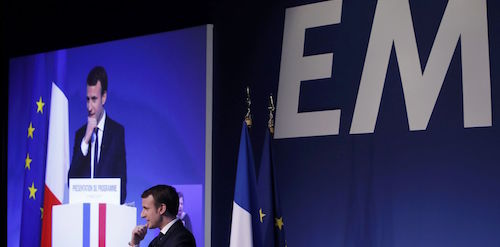 Emmanuel Macron at a March 2017 press conference. 

From François Hollande's decision not to stand, to François Fillon's legal woes, the current presidential campaign has been a succession of dramatic twists. And you, Jacques Rancière, are a unique observer of this spectacle. For years you have denounced the impasses of representative democracy, which you see as incapable of producing a genuine democracy. How would you analyse what is happening?

"Representative democracy" is a more than ambiguous term. It conveys the false idea of an already-constituted people that expresses itself by choosing its representatives. Yet the people is not a given that pre-exists the political process: rather, it is the result of this process. This or that political system creates this or that people, rather than the other way around. Besides, the representative system is founded on the idea that there is a class in society that represents the general interests of society. In the minds of the American founding fathers, that was the class of enlightened landowners. This system creates a people that identifies its legitimate representatives as coming from within this class, periodically reconfirming as much at the ballot box. The representative system gradually became an affair for professionals, who then reproduced themselves. But in so doing this system generated its own reverse, the mythical idea of a people not represented by these professionals and aspiring to provide itself with representatives who really do incarnate it. This is the piece of theatre — of constantly declining quality — that each election now reproduces.
The Israeli historian Shlomo Sand made his name with his critical re-reading of the history of Israel, nationalism and Jewish identity. Trained in the French historical school, he is also a keen observer of intellectual life in Paris. His most recent book, devoted to the decline of a milieu which he once so admired, concludes with a sombre diagnosis. Translated by David Broder.

"When an intellectual makes eulogies to the police, the army, and the forces of the state, then he is out-of-step with the history of France since Voltaire. Houellebecq accuses the government of not being sufficiently militaristic. How can we imagine an intellectual, a writer, an artist taking a stance against the authorities saying they aren't 'muscular' enough? It is astonishing to see how the intellectuals dominating the debate today are against immigrants, against foreigners, against the weakest [...] This neoconservatism is a sign of the times."
Jacques Rancière and Étienne Balibar expressed their solidarity with students protesting Hollande's labour reforms. The students have occupied the Tolbiac Faculty of the Pantheon-Sorbonne University since 22nd March. Workers, Students, High-Schoolers, Intellectuals – All Together!

A convergence of struggles, and a meeting of minds as well. Such was the dual constellation shining over Wednesday night's meeting at the Tolbiac Faculty [in Paris, occupied by students since 22 March]. 
Two of the messages that were read out particularly caught the attention of the packed-out auditorium: those sent by Jacques Rancière and Étienne Balibar.