"We have concluded that the UK chose to join the invasion of Iraq before the peaceful options for disarmament had been exhausted. Military action at that time was not a last resort." — John Chilcot.

The long-awaited Chilcot Report, spanning almost a decade of UK government policy decisions between 2001 and 2009, was released today. The report finds that there was no "imminent threat" from Saddam Hussein, and that Tony Blair had gone to war before "peaceful options for disarmament" had been exhausted — the UK's invasion of Iraq in 2003 was not a "last resort".
Verso presents a reading list of books that contextualize the disaster resulting from the "War on Terror" and the refugee crisis rooted in its violence. After the invasion by coalition forces in 2003, Iraq began fracturing along sectarian lines, unleashing years of violence and displacement. With the outbreak of war in Syria in 2011, ISIS exploited the chaos and societal tensions of the region to sweep to power on a brutal campaign that has displaced millions of civilians. The Iraq War, too, led to increased risk of terrorism in Europe as well as within the Middle East.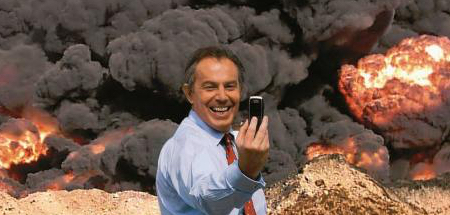 Following the tragic Orlando massacre at a gay nightclub, both New York Governor Andrew Cuomo and Democratic presidential nominee Hillary Clinton called for a return to "the spirit of 9/12," a reference to a dark period of racism, surveillance, and state sanctioned Islamophobia after the September 11th attacks. In the United Kingdom, instances of xenophobia and Islamophobia have reportedly surged following the EU referendum, leaving migrants and minorities, particularly Muslim women, vulnerable to attack and discrimination. As events unfold and the "Brexit" debates continue, we present a reading list of key titles that shed light on the origins of Islamophobia and ways we can organize to fight it. 
Five years ago the Middle East and North Africa was electrified by unprecedented popular protests that heralded the start of the Arab Spring. Beginning in Tunisia popular movements swept regimes from power in Tunisia, Egypt, and Libya and threatened to overthrow ruling elites across the region. Tragically, the Arab Spring has since become mired in counterrevolution and civil war with the extraordinary violence of the war in Syria, the rise of ISIS, the escalating refugee crisis, and the establishment of a new dictatorship in Egypt emblematic of the profound challenges facing the people of the region. As tumultuous events continue to unfold we present Verso's reading list of key titles addressing the developing situation in the Middle East.