This essay by George Ciccariello-Maher was written for arranca! issue #51 (forthcoming), to provide an overview for a German-speaking audience on the dynamics behind Trump's election and the resistance to his presidency.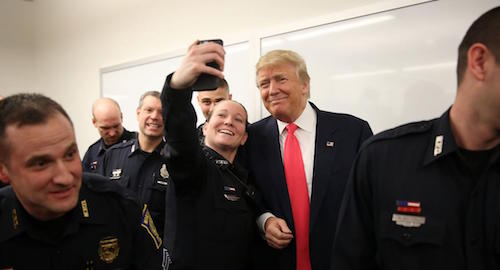 With the election of Trump, the tempo of our collective disaster has shifted dramatically. Rather than the slow-rolling nightmare of Clintonite neoliberalism, for which Obama was more continuity than respite, this nightmare has suddenly shifted into high-gear with each new day bringing — via a string of brutal executive orders — a new hell to ponder, lament, and resist.

How did we get here? The debates are seemingly interminable and inevitably self-serving.

Phoenix, February 2017: A protestor ties himself to an ICE van in an effort to prevent the deportation of Guadalupe García de Rayos.

On February 17, the AP reported the existence of an 11-page Department of Homeland Security memo outlining the possible use of 100,000 National Guard troops in immigration raids. The story first met a denial from the White House, followed by the subsequent admission from ICE that the memo was circulated but will not be implemented. In its place, ICE released new policy guidelines foretelling an equally draconian future.

Darkness is coming. It has descended on immigrant communities before. We survived. We shall again.
In Les Nouveaux Visages du fascisme, Enzo Traverso and Régis Meyran discuss the continuities and discontinuities between the fascist movements of the twentieth century and the "post-fascist" far right of today. Olivier Doubre spoke with Traverso for the 16-22 February 2017 edition of Politis. Translated by David Broder. 


You use the term "post-fascism" to characterise today's far Right movements. What does this term mean?

Enzo Traverso: The idea of post-fascism firstly serves to characterise a political movement that is shot through with contradictions, and which has an evident fascist matrix — for that is its history, where it comes from — and in the Front National's case a dynastic line of descent. There is an undeniable fascist hard core in the FN apparatus, its activist base, composed of neo-fascist militants of all generations. They are very active in the FN and hold onto a good part of the organisation. So there is a rift between the organisational reality of this party — or even its anthropological fabric — and Marine Le Pen's discourse in the media or the public sphere, which is of a xenophobic, nationalist, anti-neoliberal tenor but also comes out of a social Right. Yet if the FN were a neofascist sect, or even a neofascist party, I do not think that it would be considered likely to appear in the second round of the presidential election, or even capable of being France's biggest party. This party is thus clearly transforming, and it is trying to operate a process by which it dialectically transcends its fascist character — but without entirely rejecting it. So in order to fight this party, we have to understand what it has become.