Ahead of Alexis Tsipras' meeting with Angela Merkel tonight on the sidelines of the EU summit in Riga, we share an interview given on Monday by Costas Lapavitsas, Syriza MP and co-author of Against the Troika, in which Lapavitsas urges a Greek exit from the Euro. "If one finds himself in a trap is it a disaster to try and get out of it? Is it better to wait until death comes?"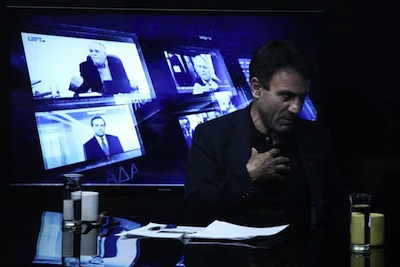 See the interview, with English interpretation after 40 minutes, here. A summary of the interview, by ThePressProject, is below.

Below, we re-publish perspectives from three leading commentators on the situation in Greece. Stathis Kouvelakis, who teaches political theory at King's College London and serves on Syriza's central committee; Luciana Castellina, a leading figure of the Italian left; and Costas Lapavitsas, Syriza MP, Professor of Economics at SOAS and co-author of Against the Troika: Crisis and Austerity in the Eurozone.
German Finance Minister Wolfgang Schäuble and Yanis Varoufakis after a meeting in February. Source: Michael Kappeler/European Pressphoto Agency

In a joint interview with German daily Der Tagesspiegel and ThePressProject International, Syriza MP and economist Costas Lapavitsas says that the time has come for Greece and its partners to understand that "they are flogging a dead horse". 


Download Lapavitsas' blueprint for real change, Against the Troika, at a 50% discount!

What's your opinion on the negotiations so far? How is the government doing?
The Syriza strategy has been - and it remains - that a change in the political alignment of forces in Greece, in Europe, or generally, would act as a catalyst in the Eurozone. 
This strategy has now come to an end. 
The real question is how long it will be before people understand it.
I was always extremely skeptical of it. I always argued that it isn't just about political alignment, there are institutional mechanisms and the logic of the monetary union. And those who believe that a simple change of politics is enough to transform this, were mistaken and I think this has been confirmed.