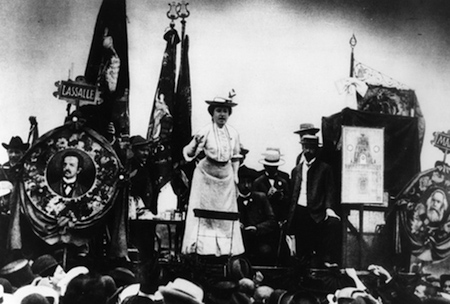 "What is 'Women's Day'? Is it really necessary?" Alexandra Kollontai asked readers of the Russian journal Pravda a centenary ago. "On Women's Day," she wrote, "the organised demonstrate against their lack of rights."


Although women reportedly read more than men, women writers are much less reviewed – and when they actually are, they are too often marginalized into chick-lit sections. Throughout the intellectual world, authors, publishers and journalists are taking small steps against the blatant imbalance in how male and female writers and reviewers are treated. One inspiring example that might go viral on the social networks is the #readwomen2014
As a Guardian article suggests, the project started as "listing 250-odd names from Angela Carter to Zadie Smith and encouraging recipients to 'if not vow to read women exclusively, look up some of the writers I've drawn on the front or listed on the back'."
Committing to reading more women authors is, in itself, a strong political stance. However, if one wants to address the deeper sociohistorical roots of the problem – namely, patriarchy –ingenuous bemusement at sexist reading habits is clearly insufficient.



On the Public Seminar website, Nancy Fraser has recently offered a preliminary set of coordinates for critiquing certain trends in contemporary anti-capitalist thinking. She describes these trends as a kind of 'neo-anarchism' which has become particularly popular in movements such as anti-globalisation movements, Occupy and waves of student occupations. She describes some of the characteristics of this resurgence of anarchist thinking:
Distrustful of global governance institutions, and of the expert networks entangled with them, this approach looks to anti-systemic movements as agents of transformation. Valorizing the independent militancy of Occupy, WikiLeaks, and the World Social Forum, it affirms efforts to build counterhegemonic centers of opinion and will formation, far removed from circuits of institutionalized power.