The latest Israeli military attacks in Gaza, dubbed 'Operation Protective Edge', is the third major offensive on the Gaza Strip in six years. Before the July 2014 offensive, the last large-scale escalation was in November 2012, when the Israeli military bombarded the Gaza Strip with air strikes for eight days. Those strikes killed 171 Palestinians, including more than 100 civilians. In 2008-2009, Israeli soldiers launched a 22-day military operation in Gaza, dubbed Operation Cast Lead. About 1,400 Palestinians and 13 Israelis were killed. [source: Aljazeera]



Tens of thousands of Palestinians have left their houses to seek shelter from an Israeli ground invasion, July 2o014. Photo: Emad Nassar/Al Jazeera
As the latest attacks intensify, and the number of civilian deaths continue to rise, it seems more pertinent than ever to understand the political motivations behind these assaults and, more importantly, how Israel have been able to carry out such atrocities without intervention. Here, we present a list of books from Israeli and Palestinian authors, to explain the conflict and consider what the future might hold.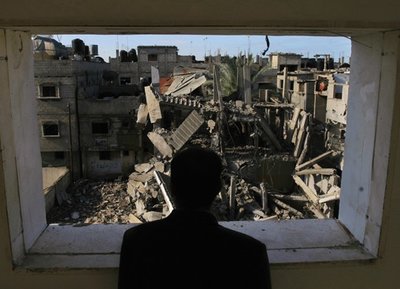 Gideon Levy
, a prominent Israeli journalist - described by 
Le Monde
as a
"
thorn in Israel's flank
"
- argues in
Ha'aretz
this week how in
'
the Jewish state, there is pity and humane feelings only for Jews, rights only for the Chosen People. The Jewish state is only for Jews.
' 
Referring to the recent tragic events, Levy is critical of how the 'media in the Jewish state wallows in the murder of three yeshiva students, while almost entirely ignoring the fates of several Palestinian youths of the same age who have been killed by army fire over the last few months, usually for no reason.'
The Nakba, or "day of catastrophe," remains the central issue of struggle for the Palestinian people. Commemorated each May 15th, the Nakba began in May 1948 when the State of Israel was founded on Palestinian lands, leading to the forcible expulsion of 75% of the indigenous population. Today, over 5 million Palestinian refugees remain in refugee camps in countries around the world, unable to return to their land and homes. They are the oldest and largest refugee population in the world.
With the announcement, just one day before the Nakba, that Israel has settled with hundreds of Palestinian political prisoners on hunger strike, we reflect on 64 years of Israeli occupation—and Palestinian resistance—with a survey of Verso's responses to this struggle.