Sonya Faure's interview with Enzo Traverso on post-fascism, left melancholy, and the memory of defeat was first published in Libération. Translated by David Broder.
 
A new edition of Christopher Hill's classic The Experience of Defeat is out from Verso this week.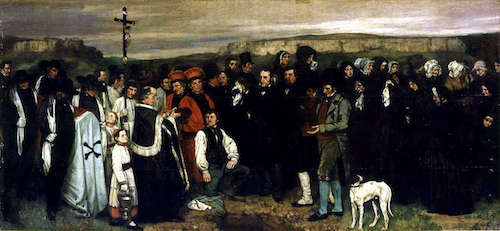 Gustave Courbet, Un enterrement à Ornans, 1849–50.

Enzo Traverso has published two books in quick succession, which he himself sees as two parts of a diptych. In Nouveaux visages du fascisme ("Fascism's New Faces," to be published by Textuel in February) the historian of ideas gives his definition of the concept "post-fascism" as he works to reveal the still-changing nature of the new populist and xenophobic currents from Le Pen to Trump. In Left-Wing Melancholia. Marxism, History and Memory (Columbia University Press, January 2017), he explains why the Left must draw on its inherent melancholia, a force for its own self-reinvention. Born in Italy, Enzo Traverso — a former far-Left militant and formerly an academic in France, today professor at Cornell University in the United States — places French political passions back at the heart of global debates, from the reconstruction of the Left to the populist temptation.