Dalia Gebrial responds to a history of women's movements to ask how a transnational feminist politics of solidarity can change and embolden our vision of the world. 

The question of transnational solidarity has progressively faded away from the realm of feminist conversation. The idea of intersectionality – a powerful descriptor of how seemingly circumscribed systems of oppression operate through and alongside one other – has been reduced to representative diversity politics: a coalition of limited but energy-consuming practices of privilege-checking and callouts; a seemingly immovable emphasis on bodies and checklists as the prime marker of Good Praxis. Solidarity has been supplanted in favour of 'allyship' and 'standing aside'. Creating spaces of self-determination has been neutralised into creating spaces of safety. Only the personal can be political.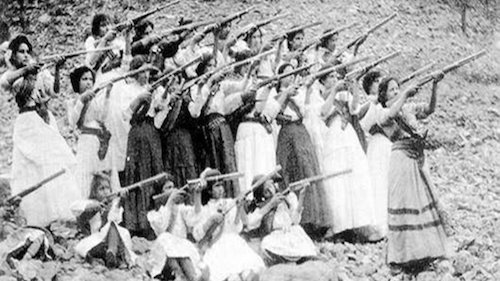 Rani of Jhansi Women's Regiment of the Indian National Army, training, early–mid 1940s. via End of Empire.