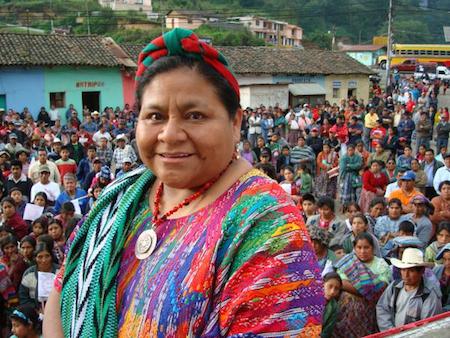 Rigoberta Menchú was born in Quiché, Guatemala on January 9th 1959 to indigenous Mayan parents. After leaving school she became an activist campaigner, lobbying against the human rights violations that were perpetrated during the 1960-1996 Guatemalan Civil War, by the national Guatemalan armed forces. 

"What is 'Women's Day'? Is it really necessary?" Alexandra Kollontai asked readers of the Russian journal Pravda a centenary ago. "On Women's Day," she wrote, "the organised demonstrate against their lack of rights."
Greg Grandin reviews Robin Blackburn's latest books for the Guardian. Grandin describes Blackburn's The American Crucible not as "the capstone of an influential career" but rather as "a catching of breath and a continuation of arguments initially made by the great original theorists of the Atlantic World system." In this monumental new book, Blackburn explores some of the historical conceptions and misconceptions of the complex system which sustained slavery and its economy in the Americas, with a new focus on the Haitian revolution:
The centrepiece of The American Crucible is Blackburn's measured reconstruction of the chronology of the Haitian revolution and its influence on freedom movements in the United States, Spanish America and Brazil, a persuasive rebuttal of scholarly assessments that the revolution was exceptionally bloody or that its leaders instituted a new form of anti-European racism.