In commemoration of the death of renowned scholar and Marxist historian Eric Hobsbawm, Verso presents his introduction to the most recent edition of Marx & Engels 'The Communist Manifesto' for all to enjoy.
I
In the spring of 1847 Karl Marx and Frederick Engels agreed to join the so-called League of the Just [Bund der Gerechten], an offshoot of the earlier League of the Outlaws [Bund der Geächteten], a revolutionary secret society formed in Paris in the 1830s under French Revolutionary influence by German journeymen – mostly tailors and woodworkers – and still mainly composed of such expatriate artisan radicals. The League, convinced by their 'critical communism', offered to publish a Manifesto drafted by Marx and Engels as its policy document, and also to modernize its organization along their lines. Indeed, it was so reorganized in the summer of 1847, renamed League of the Communists [Bund der Kommunisten], and committed to the object of 'the overthrow of the bourgeoisie, the rule of the proletariat, the ending of the old society which rests on class contradiction [Klassengegensätzen] and the establishment of a new society without classes or private property'. A second congress of the League, also held in London in November–December 1847, formally accepted the objects and new statutes, and invited Marx and Engels to draft the new Manifesto expounding the League's aims and policies.


Catch up on your radical political theory BEFORE you head back to class with books from Badiou, Butler, Žižek and more! The next time someone suggests pulling an all-nighter to finish that paper, you'll have Jonathan Crary's argument against capitalism infringing on our lives 24/7.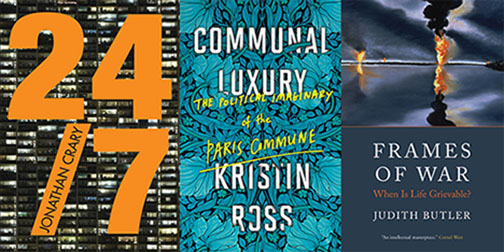 May 1st marks International Workers' Day, a festival of working-class self-organization stretching back over 130 years. It was originally inaugurated to commemorate the Haymarket Massacre of 1886 in Chicago, where a bomb thrown during a worker's strike kicked off a period of anti-labor hysteria.
In 1890, the first internationally coordinated demonstration for an 8-hour day was held, in commemoration of those killed in the massacre. Eight anarchists were executed on trumped-up charges after the event. We present the following reading list: