All the books on this list are 50% off until Tuesday 8th September as part of our Back to University/Back to School sale. See all the books included in the sale here.

Catch up on your radical political theory BEFORE you head back to class with books from Badiou, Butler, Žižek and more! The next time someone suggests pulling an all-nighter to finish that paper, you'll have Jonathan Crary's argument against capitalism infringing on our lives 24/7.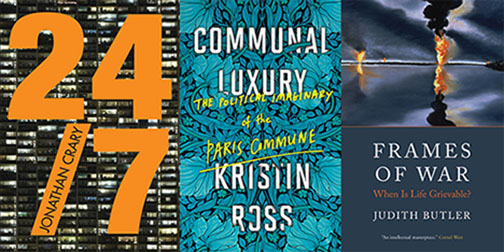 We're celebrating May Day with a 50% off sale on recent and favorite activist titles. Buy your mom a copy of The Life and Death of American Labor and then get out in the streets! (NYC - join us at the May Day march to disarm the NYPD)

For one day every book on this list is 50% off with free shipping worldwide (we're still working on Canada - apologies!) and bundled ebooks where available.

May 1st marks International Workers' Day, a festival of working-class self-organization stretching back over 130 years. It was originally inaugurated to commemorate the Haymarket Massacre of 1886 in Chicago, where a bomb thrown during a worker's strike kicked off a period of anti-labor hysteria.
In 1890, the first internationally coordinated demonstration for an 8-hour day was held, in commemoration of those killed in the massacre. Eight anarchists were executed on trumped-up charges after the event.


Two years after the publication of Thomas Piketty's Capital in the Twenty-First Century, this international best-seller is still the object of a great deal of discussion and criticism. While its author is now listed among Time magazine's 100 most influential figures, the economist Frédéric Lordon ,author of Willing Slaves of Capital has written a robust attack on Piketty's book for this month's Le Monde diplomatique. Its title – 'Thomas Piketty, no danger to capital in the twenty-first century' gives some idea of the kind of critique he is making.
Frédéric Lordon's article sticks out like a sore thumb from the media consensus praising the quality and political depth of Piketty's book; and well-aware of his both insightful and iconoclastic views on major contemporary debates, Frédéric Taddei invited Lordon onto his programme Ce Soir (ou jamais!), together with Piketty. The question that the two men debated was 'Should we put capitalism straight?'