Ilan Pappe
's acclaimed history of Israel and Zionism, 
The Idea of Israel: A History of Power and Knowledge, 
has been included on the Long List for the
 prestigious JQ Wingate Prize 2015. The JQ Wingate Prize is an annual award from the Jewish Quarterly and is presented to writers from the UK, British Commonwealth, Europe and Israel who "stimulate an interest in themes of Jewish concern while appealing to the general reader."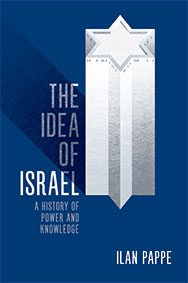 BACK TO UNIVERSITY/SCHOOL! 50% OFF EVERYTHING FOR ONE WEEK ONLY!

Feeling underwhelmed by your orthodox assigned readings? Expand your knowledge of left theory, give your political arguments some bite, and spark a love for revolutionary writers with this updated list of essential Verso books for undergraduates.

Whether you're a student of history, sociology, political science, or geography, look no further for key radical texts and indispensable primers on today's top thinkers. 

The list is divided into Politics, Philosophy, Feminism, Postcolonial Studies, History and Geography - see below for our recommended reading in these areas.

All of these books will be discounted by 50%, with free shipping and bundled ebook, when you buy through our website until midnight on Tuesday September 16th! Not all books are available in all regions (apologies!) and - of course - only whilst stocks last.

In 1982, the French philosopher Gilles Deleuze interviewed the Palestinian author Elias Sanbar, founder of the Journal of Palestine Studies (La Revue d'Études Palestiniennes). They examine the importance of the journal and the existence of the people and land of Palestine. Disgracefully, over 30 years later, these discussions are still despairingly relevant to today's climate. 
We have waited a long time for an Arab journal in French, but instead of coming from North Africa, it's being done by the Palestinians. La Revue d'Études Palestiniennes has two characteristics obviously centered on Palestinian problems which also concern the entire Arab world. On the one hand it presents very profound socio political analyses in a masterful yet calm tone. On the other hand, it mobilizes a specifically Arab literary, historical and sociological "corpus" which is very rich and little known. 
-Gilles Deleuze, 1982