Marxist geographer David Harvey recently spoke with il manifesto about the contradictions inherent in capitalism, the possibilities for its undoing and where Syriza and Podemos fit within its opposition.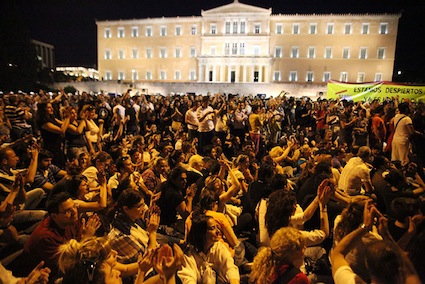 At 79 years of age and fresh from publishing a new book (Seventeen Contradictions and the End of Capitalism, Oxford University Press), David Harvey is still reading social change with one eye on Marx and another on the social movements.

On Monday, February 23, fifteen former students of Corinthian Colleges Inc., a network of for-profit colleges, declared a debt strike by refusing to repay their federal loans. Taking a bold and unprecendented stand on the current student debt crisis, the Corinthian 15, who are members of the
Debt Collective
, are demanding that the Department of Education discharge their debts, as well as those of former and current Corinthian students. 
This Sunday, 25 January, Greeks will vote in parliamentary elections of potentially historic importance, with Alexis Tsipras's Syriza coalition currently ahead in the opinion polls. But according to Frédéric Lordon, Germany's grip on the situation and the Greek radical Left party's own inconsistencies might condemn it to some painful acrobatics.


For a long time Europe has been caught in a constitutional trap of its own making, with its neo-liberal treaties offering just two ways out of the current impasse: 1) the financial collapse of the European project, under the weight of its own internal contradictions; or 2) some political mishap coming along that will overthrow the whole system. The ECB's announcement of the OMT programme [1] has avoided the first of these eventualities – for now – which leaves the second. And that's the reason why the 'European-institutional party' has come to see democracy not as a normal state of political life but rather as a permanent source of threats – and it thinks itself justified in using any means necessary to stamp them out.