You may remember a few months ago we told you about
Salvage
's appeal for
crowd-funding for their first issue
. Not only did they reach their funding target but they now have the finished copies ready and waiting to be sent out to everyone who donated/bought/subscribed. If you haven't already picked up a copy, then you can purchase Issue 1, alongside subscriptions, tote bags and keyrings, at the
Salvage webstore
.
And keep checking back on their
website
for plenty of exclusive web-only content, which currently includes China Miéville's brand-new short story
The Dusty Hat
, Magpie Corvid's
Marxism for Whores
 and
Richard Seymour
's
general election post-mortem
.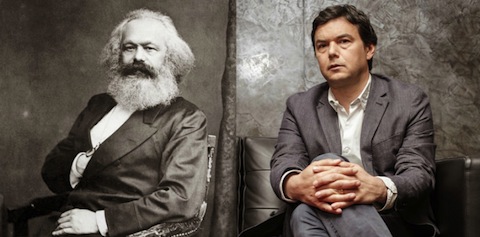 One cannot help but feel suspicious when a book titled 
Capital
, claiming to be a ground-breaking work of political economy, receives little but gushing accolades from across the mainstream media. In an article published for
Le Monde Diplomatique
,
Frédéric Lordon
 lays out why such suspicion might not be ill-founded. For Lordon, Thomas Piketty remains confined within the myopic sphere of accountancy, failing to attend to capitalism as a historical and political phenomenon:
"Capitalism according to Piketty has no history—only an unvarying age-old law, occasionally disturbed by accidental events, but always returning to its implacable long-term trend, which leaves no room for conflict between social groups, the real force behind institutional change."


Visit
Le Monde Diplomatique
to read the article in full.
Frédéric Lordon
is the author of
Willing Slaves of Capital: Spinoza and Marx on Desire, 
and a regular commentator on
current events
.
Economically, the country is far from the visions of recovery and renewal promised by the Coalition and its media retinue. If anything, conditions are getting worse for the majority, while markets remain volatile. Underlying this trend is a continuing engrossment of wealth and privileges enjoyed by the rich. As pointed out by countless observers, while the earnings of the average employed person are either static or declining, the salaries and bonus options of the 1 per cent continue to rise. In this extract from The Extreme Centre, Tariq Ali critiques the politics of Thatcher and Blair.


The origins of the new politics are firmly rooted in Thatcher's response to Britain's decline. Unemployment was ruthlessly held above three million for ten years, enabling the Conservatives to push though a programme of social re-engineering – deploying state resources to crush the unions and initiate the privatization of public utilities and housing, in hopes of creating a nation of 'property-owners and shareholders' – that transformed the country.1 The defence industry was ring-fenced while the rest of manufacturing was handed a collective death warrant. The defeat of the miners' strike obliterated any possibility of resistance by the trade-union leaders and the rank and file. The triumph of finance capital was now complete. The decline of large parts of the country continued apace, and in turn, the country became increasingly restive.