For the benefit of those who haven't read the Guardian's comment (anti)coverage of Jeremy Corbyn's campaign, I've compiled all 100,000 words into this handy digested read.



Sorry but huge crowds do not translate into electoral success. We need to be looking for small crowds, people, SMALL CROWDS. About 10 people would be ideal; roughly the size of our little party at Saffron and Cosmo's place last night, where everyone agreed that while o̲f̲ ̲c̲o̲u̲r̲s̲e̲ our red hearts lie instinctively with socialism, it's quite clear that we must make credible policy proposals such as supporting workfare or implementing austerity, or we'll have a Conservative government implementing austerity and supporting workfare until 2025.

You may remember a few months ago we told you about
Salvage
's appeal for
crowd-funding for their first issue
. Not only did they reach their funding target but they now have the finished copies ready and waiting to be sent out to everyone who donated/bought/subscribed. If you haven't already picked up a copy, then you can purchase Issue 1, alongside subscriptions, tote bags and keyrings, at the
Salvage webstore
.
And keep checking back on their
website
for plenty of exclusive web-only content, which currently includes China Miéville's brand-new short story
The Dusty Hat
, Magpie Corvid's
Marxism for Whores
 and
Richard Seymour
's
general election post-mortem
.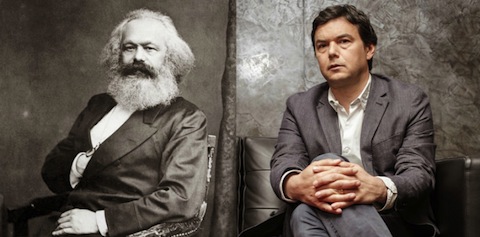 One cannot help but feel suspicious when a book titled 
Capital
, claiming to be a ground-breaking work of political economy, receives little but gushing accolades from across the mainstream media. In an article published for
Le Monde Diplomatique
,
Frédéric Lordon
 lays out why such suspicion might not be ill-founded. For Lordon, Thomas Piketty remains confined within the myopic sphere of accountancy, failing to attend to capitalism as a historical and political phenomenon:
"Capitalism according to Piketty has no history—only an unvarying age-old law, occasionally disturbed by accidental events, but always returning to its implacable long-term trend, which leaves no room for conflict between social groups, the real force behind institutional change."


Visit
Le Monde Diplomatique
to read the article in full.
Frédéric Lordon
is the author of
Willing Slaves of Capital: Spinoza and Marx on Desire, 
and a regular commentator on
current events
.