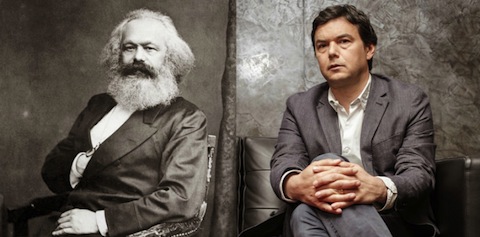 One cannot help but feel suspicious when a book titled 
Capital
, claiming to be a ground-breaking work of political economy, receives little but gushing accolades from across the mainstream media. In an article published for
Le Monde Diplomatique
,
Frédéric Lordon
 lays out why such suspicion might not be ill-founded. For Lordon, Thomas Piketty remains confined within the myopic sphere of accountancy, failing to attend to capitalism as a historical and political phenomenon:
"Capitalism according to Piketty has no history—only an unvarying age-old law, occasionally disturbed by accidental events, but always returning to its implacable long-term trend, which leaves no room for conflict between social groups, the real force behind institutional change."


Visit
Le Monde Diplomatique
to read the article in full.
Frédéric Lordon
is the author of
Willing Slaves of Capital: Spinoza and Marx on Desire, 
and a regular commentator on
current events
.
Two years after the publication of Thomas Piketty's Capital in the Twenty-First Century, this international best-seller is still the object of a great deal of discussion and criticism. While its author is now listed among Time magazine's 100 most influential figures, the economist Frédéric Lordon ,author of Willing Slaves of Capital has written a robust attack on Piketty's book for this month's Le Monde diplomatique. Its title – 'Thomas Piketty, no danger to capital in the twenty-first century' gives some idea of the kind of critique he is making.
Frédéric Lordon's article sticks out like a sore thumb from the media consensus praising the quality and political depth of Piketty's book; and well-aware of his both insightful and iconoclastic views on major contemporary debates, Frédéric Taddei invited Lordon onto his programme Ce Soir (ou jamais!), together with Piketty. The question that the two men debated was 'Should we put capitalism straight?'

Frédéric Lordon, author of Willing Slaves of Capital follows his considered analysis of Syriza's "fork in the road", focussing on the difficult choices the new government face in power.




We knew that the Syriza experience would provide an object lesson in politics, with all the fundamental bases of power and sovereignty being laid bare as the legal and financial niceties evaporated. And here we are: even sooner than we expected.