All the books on this list are 50% off until Tuesday 8th September as part of our Back to University/Back to School sale. See all the books included in the sale here.

Catch up on your radical political theory BEFORE you head back to class with books from Badiou, Butler, Žižek and more! The next time someone suggests pulling an all-nighter to finish that paper, you'll have Jonathan Crary's argument against capitalism infringing on our lives 24/7.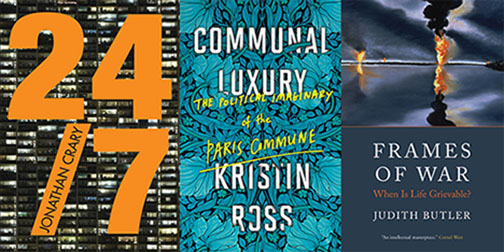 Cristan Williams, a trans historian and journalist, interviewed Judith Butler about gender and the trans experience for The TransAdvocate. They discussed the problem with TERFs and the work of Sheila Jeffreys and Janice Raymond.

Cristan Williams: You spoke about the surgical intervention many trans people undergo as a "very brave transformation." Can you talk about that?
Judith Butler: It is always brave to insist on undergoing transformations that feel necessary and right even when there are so many obstructions to doing so, including people and institutions whos seek to pathologize or criminalize such important acts of self-definition. I know that for some feels less brave than necessary, but we all have to defend those necessities  that allow us to live and breathe in the way that feels right to us.  Surgical intervention can be precisely what a trans person needs – it is also not always what a trans person needs.  Either way, one should be free to determine the course of one's gendered life.


The right to demonstrate is non-negotiable. But in towns and cities across France, society is being reordered in a way that criminalises social and political struggles.
In Madrid, the opponents of the new Internal Security Act organized a demonstration of holograms in the Spanish Parliament.