The attacks on Paris last Friday, 13th November, have prompted a predictable response: bombs abroad and a further restriction of civil liberties at home, not to mention a ratcheting up of Islamophobia. Sebastian Budgen analyses the wisdom of this approach.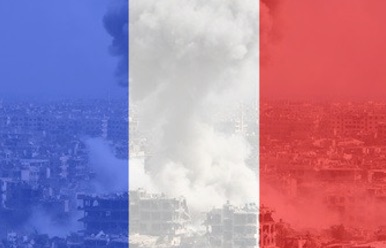 This is perhaps the moment to take a step back to review the brilliance of West's counterrorist strategy, which we can then admire in all its strategic and tactical coherence:
On Friday 13th November, 129 people lost their lives in a series of attacks in Paris reportedly carried out by Islamic State. They join the dead of Beirut, Suruç, Syria, Iraq and countless other war-torn regions as innocent victims of a conflict that knows no civilians.  

The urgency with which we have to pull ourselves back from the brink is signalled not only by the brutality of the reactions, but by the fact that they are by now entirely predictable: airstrikes abroad, destructive of life but strategically pointless; attacks on muslim populations in the west, dubbed 'revenge' by a racist media.

All is fuel on the fire. More than ever, we need to understand the situation in all its complexities.


In a number of recent articles, Jacques Sapir has argued for the 'logic of fronts', stating that the Left must temporarily subordinate its ideological differences with far-right groups such as the Front National to pursue the common objective of leaving the euro. Writing for Le Monde Diplomatique, Frédéric Lordon strongly rejects this view, arguing that any euro-exit must be from the left and to the left, not shackled to forces with fundamentally different conceptions of what 'national sovereignty' would entail. 


Some clarity
By Frédéric Lordon. Translated by David Broder
Will the debate on the euro ever be free of the curse of the Front National? Without doubt, everything seems set on condemning it to this association, especially in an era when all kinds of confusion and hysteria mix together to the extent that it is impossible to have even the slightest rational debate. But what are we to say when some of the advocates of euro exit add to the intellectual mayhem, identifying themselves as of the Left but then calling for improbable alliances with the far Right?