Alain Badiou analyses the events of the Charlie Hebdo attack in their global and national contexts, making the case for the incompatibility of the red flag of communism with the Tricolore of French national identity.


1. Background: the world situation
Today the figure of global capitalism has taken over the entire world. The world is subject to the ruling international oligarchy and enslaved to the abstraction of money – the only recognised universal. Our own time is the painful interval between the end of the second historic stage of the communist Idea (the unsustainable, terroristic construction of a 'state communism') and its third stage (the communism that realises the politics of 'emancipating humanity as a whole' in a manner adequate to the real). A mediocre intellectual conformism has established itself in this context – a both plaintive and complacent form of resignation that goes hand in hand with the lack of any future. Any future, that is, other than rolling out what already exists in repetitive fashion.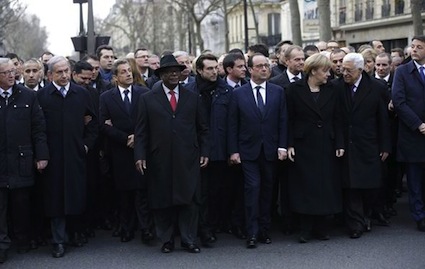 We still feel disbelief, sadness and anger over the hateful attack against Charlie Hebdo and the shameless anti-Semitic massacre that followed. We were disgusted to see artists being slaughtered because of how they freely expressed themselves: a killing perpetrated in the name of a reactionary ideology.



BACK TO UNIVERSITY/SCHOOL! 50% OFF EVERYTHING FOR ONE WEEK ONLY!

Feeling underwhelmed by your orthodox assigned readings? Expand your knowledge of left theory, give your political arguments some bite, and spark a love for revolutionary writers with this updated list of essential Verso books for undergraduates.

Whether you're a student of history, sociology, political science, or geography, look no further for key radical texts and indispensable primers on today's top thinkers. 

The list is divided into Politics, Philosophy, Feminism, Postcolonial Studies, History and Geography - see below for our recommended reading in these areas.

All of these books will be discounted by 50%, with free shipping and bundled ebook, when you buy through our website until midnight on Tuesday September 16th! Not all books are available in all regions (apologies!) and - of course - only whilst stocks last.