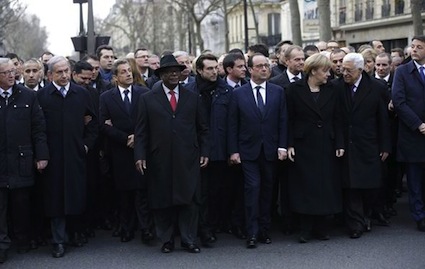 We still feel disbelief, sadness and anger over the hateful attack against Charlie Hebdo and the shameless anti-Semitic massacre that followed. We were disgusted to see artists being slaughtered because of how they freely expressed themselves: a killing perpetrated in the name of a reactionary ideology.



BACK TO UNIVERSITY/SCHOOL! 50% OFF EVERYTHING FOR ONE WEEK ONLY!

Feeling underwhelmed by your orthodox assigned readings? Expand your knowledge of left theory, give your political arguments some bite, and spark a love for revolutionary writers with this updated list of essential Verso books for undergraduates.

Whether you're a student of history, sociology, political science, or geography, look no further for key radical texts and indispensable primers on today's top thinkers. 

The list is divided into Politics, Philosophy, Feminism, Postcolonial Studies, History and Geography - see below for our recommended reading in these areas.

All of these books will be discounted by 50%, with free shipping and bundled ebook, when you buy through our website until midnight on Tuesday September 16th! Not all books are available in all regions (apologies!) and - of course - only whilst stocks last.

THE SALE HAS NOW FINISHED.

Thanks for all your support - the sale has been a tremendous success and we hope that everyone enjoys their books! Thank you for supporting independent publishers.

Please continue to support us and come back to our website for special offers, news on new titles and events, and original pieces from our authors. If you sign up to our email list you will get advance notice of any offers and new titles.

And sorry, sorry, sorry to all our Canadian customers. We thought we could ship to you but an insurmountable technical glitch meant that it wasn't possible. We're working on it and we have promised to do a special offer for our Canadian customers.

----

We're delighted to announce that we are now selling books directly through our website - meaning that we can offer generous discounts and free postage & packing to our customers. In addition, and where available, for every print book you buy you will receive the bundled ebook for free! Over time you can build up your own library of ebooks, hosted on the site, available to re-download as you wish to any device.

To celebrate the launch of our new online shop we will be discounting ALL BOOKS by 50% from the 8th-14th April - THE SALE IS NOW FINISHED.

That means you can buy recent bestsellers such as Playing the Whore: The Work of Sex Work for only £4.49/$7.47; Utopia or Bust: A Guide to the Present Crisis for £4.49/$7.47; and Arun Kundnani's The Muslims Are Coming! for £7.49/$13.47 - with free postage and packing, worldwide.

We're proud that our radical publishing has stood the test of time and continues to go from strength to strength. We know that our core readership would like to support radical publishing directly, and we hope that this new approach will benefit our writers, readers, and others across the industry.