On Friday 23rd December the UN passed a resolution demanding a stop to Israeli settlement in the occupied territories as, in a shock move, the US refused to veto the resolution. Israeli Prime Minister Benjamin Netanyahu exploded, calling it a 'declaration of war' (having recently been granted a $38 billion military aid package by the US), and Secretary of State John Kerry criticised Israel's approach to the peace process. But with Trump tweeting that Israel should 'stay strong' until his inauguration, progress still seems unlikely.


Verso presents a list of books from Israeli, Palestinian, and anti-imperialist authors, to explain the conflict and provide some perspectives on the future. 
Ilan Pappe
's acclaimed history of Israel and Zionism, 
The Idea of Israel: A History of Power and Knowledge, 
has been included on the Long List for the
 prestigious JQ Wingate Prize 2015. The JQ Wingate Prize is an annual award from the Jewish Quarterly and is presented to writers from the UK, British Commonwealth, Europe and Israel who "stimulate an interest in themes of Jewish concern while appealing to the general reader."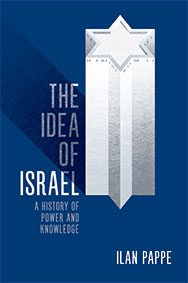 As the Palestinian death toll topped 1,000 this week, Israeli historian - and author of
The Idea of Israel
 -
Ilan Pappé
talked with
Democracy Now!
about the current attacks in Gaza.
"I think Israel in 2014 made a decision that it prefers to be a racist apartheid state and not a democracy,"
Pappé
says. "It still hopes that the United States will license this decision and provide it with the immunity to continue, with the necessary implication of such a policy vis-à-vis the Palestinians wherever they are." 
See below for a full transcription of the interview.