Susie Day's interview with organizer and artist Amin Husain was first published in Monthly Review online.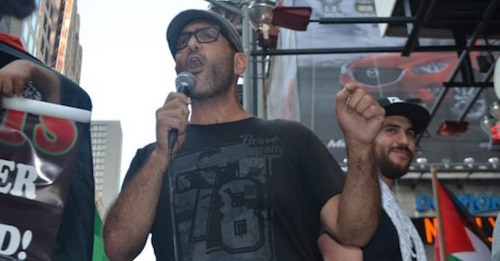 Rounding up immigrants, pissing on transgender bathroom rights, barring press from press briefings… The only good thing Donald Trump has done is to galvanize millions of people into political outrage. For months now we've gone to dozens of marches and rallies. Of course, this isn't enough, but what more to do?

Then I happened on a Facebook post by Amin Husain:"I wish I could share what's wrong and what's missing in how we're handling the Trump era without many of my dear friends thinking that I am just being a downer on the 'resistance.'" I had to hear more.
This piece by Kim Moody was first published in the September/October 2012 issue of Against the Current.



Strikers surround a mail truck, Oakland General Strike, 1946.

Inspired by the boldness of the movement, activists of Occupy Oakland issued a "call for a general strike" in that city for November 2 — a sign of the movement's radicalism and its sense of where social power lies.

One criticism of the Occupy activists was that they had not consulted the unions. Had they done so, however, it is very unlikely that very many union leaders would have agreed to jointly "call" such an action. But what's more important, as I will argue, is that general strikes or mass strikes are seldom simply "called" from above, if at all, or until they are well underway — and those that are "called" tend to be called off just as easily.

Bernie Sanders led Hillary Clinton by a 22-point lead in the New Hampshire primaries, the second biggest democratic New Hampshire primary win in history!
And a recent Bloomberg Politics/Des Moines Register poll showed that 43 percent of Iowa Democratic caucus goers described themselves as "socialist" while only 38 percent described themselves as "capitalist."
Bernie Sanders has tapped in to a growing popular movement that demands economic justice for all. Embrace the resurgence of socialist ideas by picking up some new and recently published books on socialist history and American politics.
All of the books on our US Politics Reading List
are 50% off until February 19th!
(plus free shipping and bundled ebooks where available!)

Check out the books available here >>>>>>>>>>>>>
Listen to Bernie's autobiography Outsider in the White House!
Get the audiobook from Audible for only $6.95. Buy it here.