Former L'Obs journalist Aude Lancelin describes how how the En Marche! candidate was utterly fabricated by media in capital's hands. First published on Agoravox, 21 April, prior to the first round vote.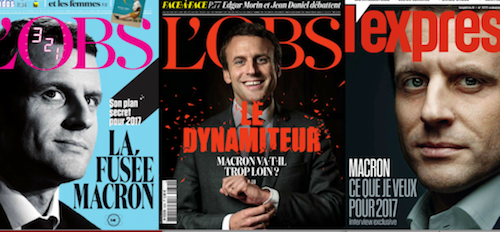 It was late last year, and I had just handed in the manuscript for Le Monde libre (on my eviction from L'Obs). My gaze wandered to the 24 hour news channel BFM TV images, amidst what remained of a Paris heatwave that had just recently finished. That was when I suddenly understood that 2017 would be a terrible year, and that the coming presidential election would not resemble anything this country had ever seen before. The country's leading rolling news channel, the flagship of Patrick Drahi's Altice-SFR group,was certainly not cutting any corners that 30 August 2016. Everything was laid on to cover a quite considerable event, just imagine it: the resignation from the Economics Ministry of a young gun of Hollandism, who even two years previously had still been almost unknown to the public. A scoop of planetary importance, we could see, which certainly merited the general mobilisation of all the teams working for the channel owned by this French telecoms billionaire.
First published in Le Monde Diplomatique. Translated by David Broder.




A system that has veteran TV journalist Christine Ockrent commenting on Trump's election on France Culture and Bernard-Henri Lévy interviewed about it by pundit-commentator Jean-Michel Aphatie two days later is just as absurd as a problem that claims to provide the solutions. But more than that, it is a dead system.
We should not be surprised that the theme of the living-dead is enjoying such a resurgence in TV series and films. They are representations of our era, and perhaps it is indeed the confused sentiment of this era, both dead-already and still-alive, that is secretly working away at our sensibilities, making the zombie appear as the figure that best expresses the present moment.