Although born in the early 19th century, the relevance of
Karl Marx
's ideas for analysing 20th and 21st century capitalism, as well as for understanding the political and economic struggles and changes of his own day, remain vital and essential.
Here, Verso present a Marx Reading List for that world-changing historical thinker, born 196 years ago today.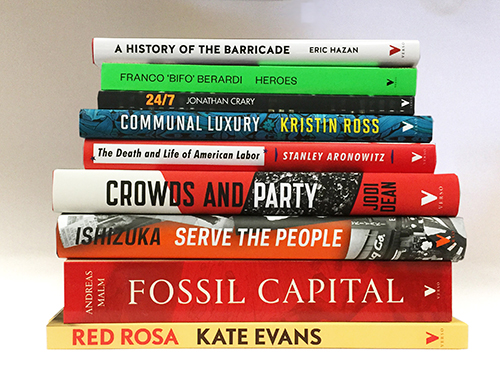 May 1st marks International Workers' Day, a festival of working-class self-organization stretching back over 130 years. It was originally inaugurated to commemorate the Haymarket Massacre of 1886 in Chicago, where a bomb thrown during a worker's strike kicked off a period of anti-labor hysteria.

May Day 2015 in London saw a rally of trade unions, migrant workers & London's many communities and other organisations finishing in Trafalgar Square. 2016 demos include speakers such as Yannis Gourtsoyhannia (from the Junior Doctor's dispute), Christine Blower (the General Secretary of the National Union of Teachers, to talk about the government's attacks on education), Frances O'Grady (TUC General Secretary), Jeremy Corbyn, and John McDonnell. See the full details here!

In New York there's a rally and march in Union Square on Sunday starting at noon, in Los Angeles there's a May Day March and Bernie Sanders rally on Saturday starting at 3pm, and in Oakland there's a rally at the Fruitvale Bart starting at noon. See an incomplete list of May Day activities here.

This May Day we bring you the following reading list, AND we're doing a FLASH SALE with 50% off all of them! Don't forget - we have free worldwide shipping and free bundled ebooks where available!

In commemoration of the death of renowned scholar and Marxist historian Eric Hobsbawm, Verso presents his introduction to the most recent edition of Marx & Engels 'The Communist Manifesto' for all to enjoy.
I
In the spring of 1847 Karl Marx and Frederick Engels agreed to join the so-called League of the Just [Bund der Gerechten], an offshoot of the earlier League of the Outlaws [Bund der Geächteten], a revolutionary secret society formed in Paris in the 1830s under French Revolutionary influence by German journeymen – mostly tailors and woodworkers – and still mainly composed of such expatriate artisan radicals. The League, convinced by their 'critical communism', offered to publish a Manifesto drafted by Marx and Engels as its policy document, and also to modernize its organization along their lines. Indeed, it was so reorganized in the summer of 1847, renamed League of the Communists [Bund der Kommunisten], and committed to the object of 'the overthrow of the bourgeoisie, the rule of the proletariat, the ending of the old society which rests on class contradiction [Klassengegensätzen] and the establishment of a new society without classes or private property'. A second congress of the League, also held in London in November–December 1847, formally accepted the objects and new statutes, and invited Marx and Engels to draft the new Manifesto expounding the League's aims and policies.