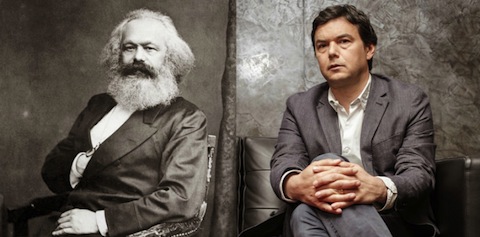 One cannot help but feel suspicious when a book titled 
Capital
, claiming to be a ground-breaking work of political economy, receives little but gushing accolades from across the mainstream media. In an article published for
Le Monde Diplomatique
,
Frédéric Lordon
 lays out why such suspicion might not be ill-founded. For Lordon, Thomas Piketty remains confined within the myopic sphere of accountancy, failing to attend to capitalism as a historical and political phenomenon:
"Capitalism according to Piketty has no history—only an unvarying age-old law, occasionally disturbed by accidental events, but always returning to its implacable long-term trend, which leaves no room for conflict between social groups, the real force behind institutional change."


Visit
Le Monde Diplomatique
to read the article in full.
Frédéric Lordon
is the author of
Willing Slaves of Capital: Spinoza and Marx on Desire, 
and a regular commentator on
current events
.
When Yanis Varoufakis announced on Tuesday that Greece's creditors have turned the negotiations "into a war", he's no doubt right, although it's perhaps becoming less clear as to who constitute the opposing sides. But for Christian Salmon, author of Storytelling: Bewitching the Modern Mind, this war also takes place on the narrative terrain, with mixed metaphors and statistical ambiguities as its weapons. As he reminds us, '"You start by ceding words,' said Freud, 'and you end up ceding on the thing.'" Translated by David Broder; read the original French article here.
Following Syriza's announcement on Thursday that it will postpone its £219m repayment until the end of the month, Alexandros Orphanides argues that the programme outlined by Costas Lapavitsas and Stathis Kouvelakis, involving taking the necessary steps to exit the Eurozone, is both "unquestionably terrifying" and "the only realistic possibility." This article was originally published by In These Times.