This essay by Jacques Rancière was published in Libération in January 2011, and then heavily revised for its Spanish publication in the multi-author volume ¿Qué es el pueblo?. Translated from the Spanish version, with reference to the French original, by David Broder.



via Wikimedia Commons.

Not a day goes by without someone in Europe denouncing the risks of populism. But it is not easy to grasp what exactly this word means. In the Latin America of the 1930s and 1940s, it served to designate a certain mode of government, passing over parliamentary forms of representation in favour of a relationship whereby a people was directly embodied by its leader.
This text by Alain Badiou first appeared on the Mediapart blog. Translated by David Broder.




I understand the bitterness of those remonstrating after the first round of the elections, particularly those left disappointed by Mélenchonism. That said, whatever they do, or say, there was no particular aberration, no swindle, in this vote.
For the philosopher Jacques Rancière, France's strange presidential election campaign is no surprise. He thinks that a French system that entrusts all power to professional politicians mechanically churns out candidates who claim to represent a "clean break." Éric Aeschimann spoke to Rancière for the 9–15 March 2017 edition of L'Obs. Translated by David Broder.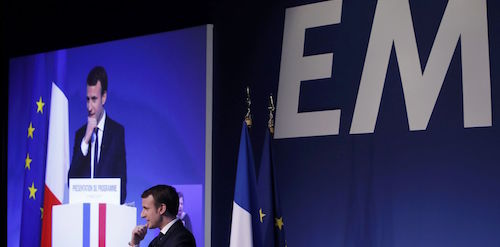 Emmanuel Macron at a March 2017 press conference. 

From François Hollande's decision not to stand, to François Fillon's legal woes, the current presidential campaign has been a succession of dramatic twists. And you, Jacques Rancière, are a unique observer of this spectacle. For years you have denounced the impasses of representative democracy, which you see as incapable of producing a genuine democracy. How would you analyse what is happening?

"Representative democracy" is a more than ambiguous term. It conveys the false idea of an already-constituted people that expresses itself by choosing its representatives. Yet the people is not a given that pre-exists the political process: rather, it is the result of this process. This or that political system creates this or that people, rather than the other way around. Besides, the representative system is founded on the idea that there is a class in society that represents the general interests of society. In the minds of the American founding fathers, that was the class of enlightened landowners. This system creates a people that identifies its legitimate representatives as coming from within this class, periodically reconfirming as much at the ballot box. The representative system gradually became an affair for professionals, who then reproduced themselves. But in so doing this system generated its own reverse, the mythical idea of a people not represented by these professionals and aspiring to provide itself with representatives who really do incarnate it. This is the piece of theatre — of constantly declining quality — that each election now reproduces.