For the philosopher Jacques Rancière, France's strange presidential election campaign is no surprise. He thinks that a French system that entrusts all power to professional politicians mechanically churns out candidates who claim to represent a "clean break." Éric Aeschimann spoke to Rancière for the 9–15 March 2017 edition of L'Obs. Translated by David Broder.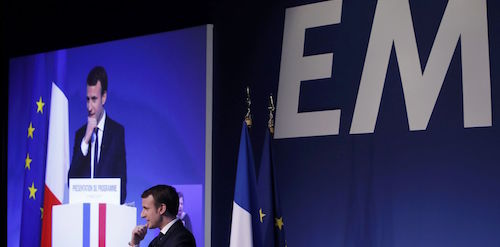 Emmanuel Macron at a March 2017 press conference. 

From François Hollande's decision not to stand, to François Fillon's legal woes, the current presidential campaign has been a succession of dramatic twists. And you, Jacques Rancière, are a unique observer of this spectacle. For years you have denounced the impasses of representative democracy, which you see as incapable of producing a genuine democracy. How would you analyse what is happening?

"Representative democracy" is a more than ambiguous term. It conveys the false idea of an already-constituted people that expresses itself by choosing its representatives. Yet the people is not a given that pre-exists the political process: rather, it is the result of this process. This or that political system creates this or that people, rather than the other way around. Besides, the representative system is founded on the idea that there is a class in society that represents the general interests of society. In the minds of the American founding fathers, that was the class of enlightened landowners. This system creates a people that identifies its legitimate representatives as coming from within this class, periodically reconfirming as much at the ballot box. The representative system gradually became an affair for professionals, who then reproduced themselves. But in so doing this system generated its own reverse, the mythical idea of a people not represented by these professionals and aspiring to provide itself with representatives who really do incarnate it. This is the piece of theatre — of constantly declining quality — that each election now reproduces.
Susie Day's interview with organizer and artist Amin Husain was first published in Monthly Review online.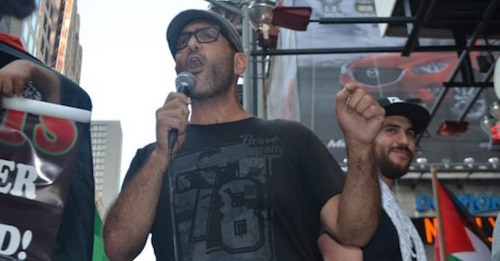 Rounding up immigrants, pissing on transgender bathroom rights, barring press from press briefings… The only good thing Donald Trump has done is to galvanize millions of people into political outrage. For months now we've gone to dozens of marches and rallies. Of course, this isn't enough, but what more to do?

Then I happened on a Facebook post by Amin Husain:"I wish I could share what's wrong and what's missing in how we're handling the Trump era without many of my dear friends thinking that I am just being a downer on the 'resistance.'" I had to hear more.
Occasioned by the publication of a French edition of Notes Toward a Performative Theory of Assembly, Jean-Philippe Cazier's interview with Judith Butler first appeared in Diacritik. 



Judith Butler, November 2015. via Vimeo.

Your book explicitly draws on texts by numerous philosophers, notably Levinas and in particular Hannah Arendt. But it also seems to have a strong attachment to Spinoza's work. We can establish numerous specific links between this book and Spinoza's philosophy, for example its core interest in the notion of relations, its reflection on the "power" of the "mass," the question of the body and what a body can be, the problem — one that runs through several of your books — of the unliveable lives produced by a violent régime, etc. In general terms, what does your philosophical work owe to Spinoza's writings? And more precisely: why do you think it is interesting to use Spinoza today in order to think through the political and ethical problems you pose in your book?

It is true that Spinoza remains in the background of my thinking. Perhaps you have detected that his thought is surfacing more explicitly in my own. I am aware, for instance, that his notion of persistence, and his philosophy of life are quite important for my understanding of the political realm. I also consider myself to be close to Etienne Balibar's early work on Spinoza and politics. It might be important to consider some paths from Spinoza to contemporary politics that does not necessarily move through Deleuze, even though Deleuze brings out a very important dimension of bodily action as rooted in the capacity to be affected. The point is not only that the conatus, that desire to persist in one's own being, is enhanced or diminished depending on the dynamic interactions with other living beings, but that a desire to live together, a pulsation that belongs to co-habitation, emerges that forms the basis of consensus, and that this political principle and practice follows from the very exercise or actualization of the desire to persist in one's own being. One desires to persist in one's own being, but that can only happen if one is affected by the other, and so without that fundamental susceptibility there can be no persistence.