Philippe Douroux's report from Alain Badiou's final seminar was first published in Libération. Translated by David Broder. 




His audience was there. 280 people in front of him, and thirty others in the hall before a screen, on the lookout for others leaving so that they too could enter the "cave" and face the master. An equal mix of men and women, the old and the young — mainly older, it should be said. None of them are dressed eccentrically, though there are sometimes some flashes of colour like orange or yellow trousers, or a bright yellow scarf with Indian motifs, doubtless a hangover of the 1970s. At the moment that everyone was about to go their separate ways, soon before midnight that evening, he even earned a standing ovation. That tells us how fervent his audience is.
On November 9th, Donald Trump was elected as the 45th President of the United States of America. Alain Badiou responded in a talk at the University of California, Los Angeles, co-sponsored by the pro­gram in Exper­i­ment­al Crit­ic­al The­ory and the Center for European and Rus­si­an Stud­ies. Below we share the transcript of his response, originally published at Mariborchan — an eloquent reflection not only on the specific events that unfolded last week, but on the situation of the world today.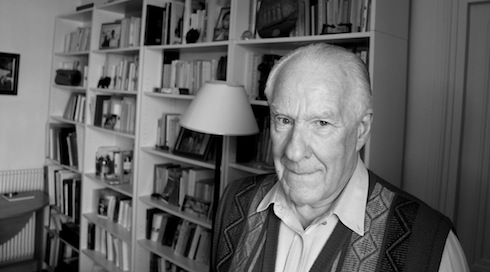 At 79 years of age the philosopher Alain Badiou surveys the youth: the youth whom liberalism has left without a compass, the youth tempted by Daesh, and so, too, his own youth, marked by communism, to which he remains faithful. Interview by Juliette Cerf for Télérama. Translation by David Broder


Photo by Jean-François Gornet. Via Flickr. 

In Alain Badiou's essay published in the wake of the 13 November Paris killings, "Notre mal vient de plus loin," he puts things directly: "Our ills today come from the historic failure of communism."