Hamid Dabashi's forthcoming book, Iran Without Borders, offers a cultural history of Iran which aims to dismantle the dominant narrative of a country torn between a traditionalist ruling regime and a secular urban population. In contrast to this, Dabashi charts the cosmopolitan influences that have been present in Iranian life and culture for many centuries now, and which have helped to forge the Iran we have today. One of the leading representatives of this cosmopolitan Iranian culture was the great filmmaker Abbas Kiarostami, who died on July 4th.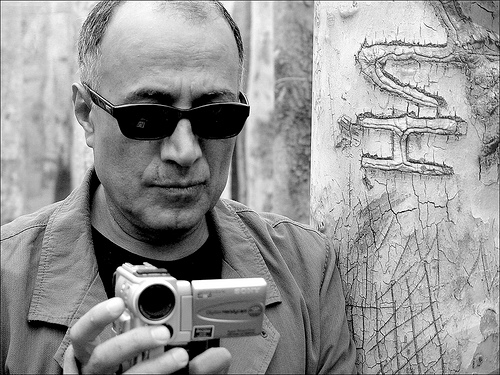 Jacques Pierre Louis Rivette was born in Rouen, Seine-Maritime, France. The filmmaker and critic died today aged 87, and had reportedly had Alzheimer's disease for some years. In 1953 Rivette joined other young Turks François Truffaut, Eric Rohmer and Claude Chabrol as a writer on the influential journal Cahiers du Cinéma, at the time edited by André Bazin. Rivette became editor of Cahiers in 1963, succeeding Eric Rohmer to steer the magazine to greater political engagement reflective of his radical politics as well as the climate of the time. Verso presents an extract from Emilie Bickerton's A Short History of Cahiers du Cinéma about the journal's new directions under Rivette's editorship. 


The Vertigo Effect, a series of more than 25 films marked, in one way or another, by Alfred Hitchcock's 1958 classic, commenced last night at BAM. Below, we present Jacques Rancière's essay on the film from Intervals of Cinema, which casts back to Vertov's Man With the Movie Camera to uncover the faultline Hitchcock's work straddles.

Understanding the art of moving images means first understanding the relation between two movements: the visual unrolling of images specific to cinema; and the deployment and dissipation of semblances more broadly characteristic of the narrative arts. In the western tradition, the second aspect is dominated by the Aristotelian logic of inversion. The plot is a sequence of actions that seems to have a certain meaning and lead towards a certain end. But as the sequence unfolds, expectations are dashed: the alliance of causes produces an entirely different effect from the one anticipated; knowledge becomes ignorance and ignorance knowledge; success changes to disaster or misfortune to happiness. How can the unrolling of moving images be married to that particular logic for unveiling the truth behind appearances? I would like to show that the most perfect synchronization of the two movements includes a fault. And I will attempt to understand the philosophical meaning and political weight of that fault. So I will talk about the relation between vision, movement and truth. And by the same token I will have to talk about the relation between cinema, philosophy, literature and communism.