In this moment of wide-scale rejection of establishment politics and the global rise of a right wing populist movement, we need utopian and radical visions of society more than ever.

This is not escapist wishful thinking but a reimagining of society as one that values people over profits, that rules democratically and collectively, that provides for the needs of all citizens. In this calamitous time, utopian thinking can inform our social movements and our strategies for building a better future.


In this extract from his new book, How Will Capitalism End?, Wolfgang Streeck argues that although economic progress in the twentieth century made the free-market regime attractive to working class majorities, today the doubts about the compatibility of a capitalist economy with a democratic polity are returning. Charted in the rise of left and right wing populism, and the backlash against poll predictions, Streeck's work is a timely response to the current state of uncertainty, and addresses the question as to what happens now?

All books on our Emerging Futures Reading List, including How Will Capitalism End?, are 40% off until Sunday, November 20th at midnight UTC. Includes free worldwide shipping and bundled ebooks where available.

Click here to activate the discount.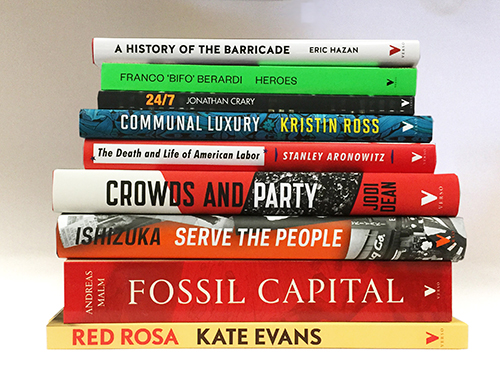 May 1st marks International Workers' Day, a festival of working-class self-organization stretching back over 130 years. It was originally inaugurated to commemorate the Haymarket Massacre of 1886 in Chicago, where a bomb thrown during a worker's strike kicked off a period of anti-labor hysteria.

May Day 2015 in London saw a rally of trade unions, migrant workers & London's many communities and other organisations finishing in Trafalgar Square. 2016 demos include speakers such as Yannis Gourtsoyhannia (from the Junior Doctor's dispute), Christine Blower (the General Secretary of the National Union of Teachers, to talk about the government's attacks on education), Frances O'Grady (TUC General Secretary), Jeremy Corbyn, and John McDonnell. See the full details here!

In New York there's a rally and march in Union Square on Sunday starting at noon, in Los Angeles there's a May Day March and Bernie Sanders rally on Saturday starting at 3pm, and in Oakland there's a rally at the Fruitvale Bart starting at noon. See an incomplete list of May Day activities here.

This May Day we bring you the following reading list, AND we're doing a FLASH SALE with 50% off all of them! Don't forget - we have free worldwide shipping and free bundled ebooks where available!