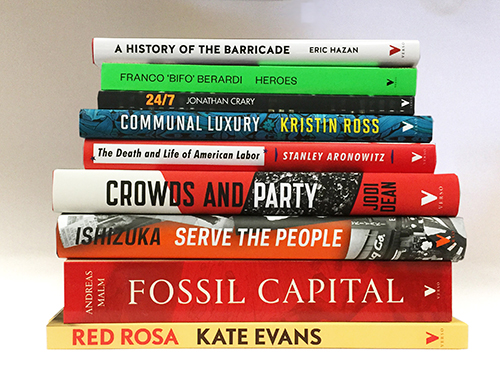 May 1st marks International Workers' Day, a festival of working-class self-organization stretching back over 130 years. It was originally inaugurated to commemorate the Haymarket Massacre of 1886 in Chicago, where a bomb thrown during a worker's strike kicked off a period of anti-labor hysteria.

May Day 2015 in London saw a rally of trade unions, migrant workers & London's many communities and other organisations finishing in Trafalgar Square. 2016 demos include speakers such as Yannis Gourtsoyhannia (from the Junior Doctor's dispute), Christine Blower (the General Secretary of the National Union of Teachers, to talk about the government's attacks on education), Frances O'Grady (TUC General Secretary), Jeremy Corbyn, and John McDonnell. See the full details here!

In New York there's a rally and march in Union Square on Sunday starting at noon, in Los Angeles there's a May Day March and Bernie Sanders rally on Saturday starting at 3pm, and in Oakland there's a rally at the Fruitvale Bart starting at noon. See an incomplete list of May Day activities here.

This May Day we bring you the following reading list, AND we're doing a FLASH SALE with 50% off all of them! Don't forget - we have free worldwide shipping and free bundled ebooks where available!

We were saddened to learn of the death of Chantal Akerman
.
Below is Jonathan Crary's consideration, from
 24/7
, of her 1992 film
D'Est
.
Chantal Akerman's film
D'Est
(
From the East
), made in 1992 and early 1993, carries a heightened self-consciousness about the circumstances of [its] weighty historical moment. Shot mainly in Poland and Russia in the year and a half following the dissolution of the Soviet Union, it discloses a world in suspension, on the edge of an undetermined future, yet still weighed down by long-standing patterns and habits. Using very long takes, it is an extended portrayal of certain textures of everyday life, sometimes suggesting a Sartrean seriality. In her essay on
D'Est
, Akerman famously declared that she felt the need to make the film "while there's still time" ("tant qu'il en est encore temps"). In one sense, she meant that she had to finish the project before it was too late, before cultural and economic forces transformed the subject of her work into something different, even unrecognizable. But, given the choices she made of what to record, "while there's still time" is also a way of saying: while there is still a world of time-in-common, a world sustained by a collective inhabiting and sharing of time and its rhythms, in the older sense of the word "quotidian."
We are all cyborgs now. To the point where this reality no longer appears at all striking. As so perfectly pictured in Alex Rivera's film Sleepdealer (2008), we are biological machines strapped to information machines which together function as war machines. It is remarkable how much of our cyborg existence Donna Haraway anticipated. In this essay, I want simply to extract some pertinent themes from four of her books and from an extended interview conducted by Thyrza Nichols Goodeve. I will stress her connection to Marxist thought, not to deny her significance as a feminist writer, but to supplement it.