Susie Day's interview with organizer and artist Amin Husain was first published in Monthly Review online.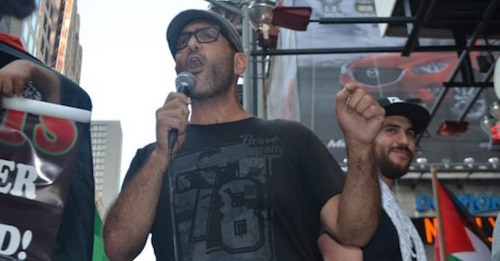 Rounding up immigrants, pissing on transgender bathroom rights, barring press from press briefings… The only good thing Donald Trump has done is to galvanize millions of people into political outrage. For months now we've gone to dozens of marches and rallies. Of course, this isn't enough, but what more to do?

Then I happened on a Facebook post by Amin Husain:"I wish I could share what's wrong and what's missing in how we're handling the Trump era without many of my dear friends thinking that I am just being a downer on the 'resistance.'" I had to hear more.
Six years ago today, Hosni Mubarak resigned the presidency of Egypt, concluding three decades in power following sustained protests. Below we present an excerpt from Hazem Kandil's 2012 Soldiers, Spies, and Statesmen: Egypt's Road to Revolt that narrates the eighteen days of resistance that preceeded Mubarak's ouster. 




Vice President Omar Suleiman announces Mubarak's departure. 

The year 2011 was the year of the purported succession. Reports circulating around the country confirmed that Hosni Mubarak was planning to pass on the mantle to his son in September. With the father and the last of the ruling party's old guard gone, there would be no court of appeal against the economic corruption and exploitation of Gamal Mubarak's capitalist cronies. The day (January 25) was Police Day — a national holiday honoring that bloody morning in 1952 when the British killed dozens of Egyptian policemen because they refused to surrender their weapons and stood tall in defense of national dignity — a day that always highlighted the dark contrast between what the police used to be and what they had become.
Aaron Swartz (1986–2013) was an American computer programmer, a writer, a political organizer, and an Internet hacktivist, devoted to a free and open internet. He was involved in the development of RSS, Creative Commons, web.py, and Reddit. When he tried to 'liberate' data from an academic website, US authorities responded fiercely. He faced a fine of up to $1m and 35 years in jail. In 2013, he tragically took his own life. 

The Boy Who Could Change the World is a newly-published collection of his writings; the life's work of one of the most original minds of our time. In tribute to Swartz, this book is available to download for FREE—for one day only! We've also included other ebooks such as Inventing the Future, Hacker, Hoaxer, Whistleblower, Spy, and The Wikileaks Files.

Aaron Swartz read widely, posting annual lists of the books he enjoyed (and didn't). Taken from The Boy Who Could Change the World, we bring you a hacktivist reading list – books that Swartz posted about from 2006-2011, presented here in his own words.