This essay was first published in Die Zeit on 30 June. Translated by David Fernbach.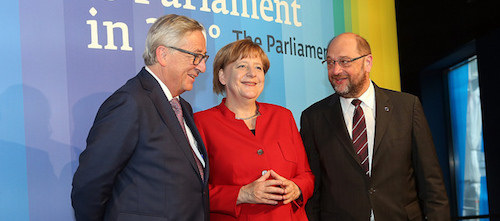 We shall have to wait and see whether German "Europeans" will learn anything from the outcome of the British referendum. There is not much hope of this. In their first reactions, they claimed that the land of Shakespeare and Adam Smith, Newton and Hobbes, Händel and Marx had never really belonged to Europe — unlike ourselves of course. It is obvious here to anyone not caught up in the German fog that similar votes would have had similar results in a whole series of countries: Denmark, Netherlands, Austria, Hungary and Italy, not to mention France. The European Union as we know it, the institutional framework of "European integration" as Germans imagined it, is experiencing its Götterdämmerung. And anyone who does not believe this risks being buried by its collapsing constructions.
In light of the result of the EU referendum, we publish Antonis Vradis' piece comparing the Greek and British EU referenda. Vradis makes the case for the necessity of a left resurgence after the reactionary far right Brexit campaign. Vradis is a geographer at Durham University, looking at Europe's urban transformations under austerity, and also at how the management of the migrant crisis is transforming the continent - as part of the Transcapes collective. He blogs at The Slow. 


On Friday, Costas Lapavitsas spoke with Gregory Wilpert of
The Real News
 about Brexit, touching on the vote and the implications of the result within Britain and elsewhere in the EU, including Greece. 
LAPAVITSAS: Brexit puts the future of the EU on the table. No question at all about it. This is a historic moment. It puts the question of the EU on the table. And we must start with the understanding that the EU has failed. And it has failed for a variety of reasons, democracy being one of them, economic policies being another, and of course the madness of the common currency, which doesn't apply to Britain, thankfully, but it applies elsewhere. The EU has failed.