Socialist candidate Benoît Hamon's campaign is now at an impasse, because he couldn't see that the neoliberal fox would refuse to accommodate to the socialist hen, while Mélenchon takes an opposing strategy, write Cédric Durand and Razmig Keucheyan. First published in Libération. Translated by David Broder.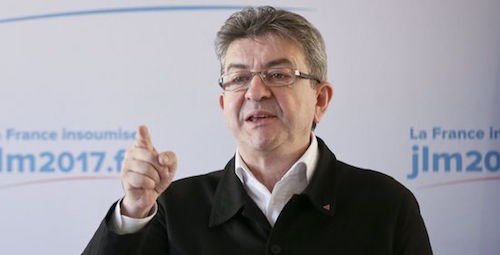 Elections were for long time rather boring. Carried forth by a liberal wind, there was a seamless exchange of office between the self-assured Right and the lightweight Left — these wholehearted converts to market modernisation — in the eternal present of capitalism. Capitalism had been made master of a globalised space and a financialised time. Endemic unemployment, consumerist exultation and terrorist/criminal horror made up the three dramatic extremes of a little game buzzing along, spiced up only by the candidates' antics or the scenes made by betrayed friends.
Razmig Keucheyan's The Left Hemisphere: Mapping Critical Theory Today has recently appeared in its first Greek edition, published by Angelus Novus. Earlier this month, Keucheyan spoke with Tasos Tsakiroglou of Efimerida ton Syntakton about the book and contemporary critical theory — in the context of climate change, and in relation to recent European electoral contests, including the 2017 French presidential election. 




In the panorama of the different critical theories that you analyze in your new book The Left Hemisphere, and despite their diversity, do you discern a common thread that unites them? and what is it?

Pessimism certainly is a common thread. None of these thinkers believes that overthrowing capitalism and replacing it with another, relatively better, system is an obvious possibility. Some of them believe it is not possible, and think "resistance" to power and "micropolitics" is our only option. This pessimism is a consequence of the tragic experiences of the 20th century, especially Stalinism.
On this day in 1891 one of the most influential Marxists of the 21st Century, Antonio Gramsci, was born in the small town of Ales in Sardinia. Gramsci's work transformed how we think about a Marxist politics. Whereas the Russian Revolution occured in the "backward" Russia, and as such was as much a revolution against the "old regime" as against capital, Gramsci attempted to wrestle with the question of how we build a revolutionary movement in the developed areas of Western Europe. In particular it was his development of the concept of "hegemony" which was to prove the most influential. In this piece, from the great Stuart Hall and published in The Hard Road to Renewal, Hall attempts to expand these insights of Gramsci's to analyse the "regressive modernisation" of Thatcher. In an age where many are tackling the question of how to build a new left modernity, Gramsci and Hall are as relevant as ever.