For the philosopher Jacques Rancière, France's strange presidential election campaign is no surprise. He thinks that a French system that entrusts all power to professional politicians mechanically churns out candidates who claim to represent a "clean break." Éric Aeschimann spoke to Rancière for the 9–15 March 2017 edition of L'Obs. Translated by David Broder.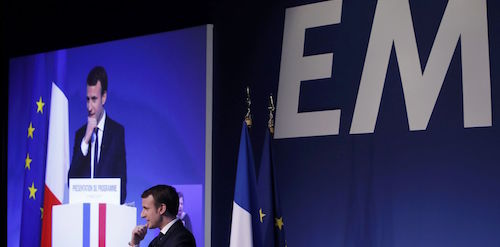 Emmanuel Macron at a March 2017 press conference. 

From François Hollande's decision not to stand, to François Fillon's legal woes, the current presidential campaign has been a succession of dramatic twists. And you, Jacques Rancière, are a unique observer of this spectacle. For years you have denounced the impasses of representative democracy, which you see as incapable of producing a genuine democracy. How would you analyse what is happening?

"Representative democracy" is a more than ambiguous term. It conveys the false idea of an already-constituted people that expresses itself by choosing its representatives. Yet the people is not a given that pre-exists the political process: rather, it is the result of this process. This or that political system creates this or that people, rather than the other way around. Besides, the representative system is founded on the idea that there is a class in society that represents the general interests of society. In the minds of the American founding fathers, that was the class of enlightened landowners. This system creates a people that identifies its legitimate representatives as coming from within this class, periodically reconfirming as much at the ballot box. The representative system gradually became an affair for professionals, who then reproduced themselves. But in so doing this system generated its own reverse, the mythical idea of a people not represented by these professionals and aspiring to provide itself with representatives who really do incarnate it. This is the piece of theatre — of constantly declining quality — that each election now reproduces.
This interview with Enzo Traverso was first published in L'humanité. Translated by David Broder. 



June 2015 press conference of far right 'Europe of Nations and Freedom' bloc within European Parliament. 

In his Les Nouveaux Visages du Fascisme, historian Enzo Traverso analyses the mutations of the European far Right movements that have emerged from "the fascist matrix."1 According to Traverso, the Left has to "offer political perspectives again" in order to occupy "the immense void" that is today being filled by both jihadism and a "post-fascism" that excludes Muslims.

Are Europe's far-Right movements (the AfD in Germany, the Front National in France, Jobbik in Hungary…) adopting the same codes as fascism or Nazism?

Enzo Traverso: First of all, these movements do share common traits, including their rejection of the European Union, their xenophobia and their racism, in particular in its Islamophobic dimension. Beyond these markers, we can see notable differences. There are clearly neo-fascist or neo-Nazi movements, like Golden Dawn in Greece, Jobbik in Hungary, etc., whose radicalism is often linked to the extent of the crisis, even if in Greece the rise of Syriza did put a lid on this dynamic. As for France, the Front National does have a fascist matrix, and there are certainly neo-fascists in the party, but its discourse is no longer fascist. After all, it has made a considerable effort at ideological mutation, and that is one of the keys to its success. If it still advanced neo-fascist arguments it would not get a hearing, and could certainly not hope to reach the second round of the presidential election.
This essay first appeared in Libération. Translated by David Broder.  

The new and substantially updated edition of Balibar's now classic introductory text The Philosophy of Marx is currently 40%, alongside all the other books on our Marx primer reading list.



via Flickr.

The question that came to my American friends' lips after Trump's election was always the same: "Who's next? Do you think that Le Pen will win the French elections?" They foresaw either a sort of domino effect or the onset of contagion, grounded in the devastation of the redistributive policies that have been torn apart by neoliberalism. They saw Brexit as a warning, a forerunner. The fall of Renzi as well as Hollande's announcement that he will not stand for re-election echoed Clinton's defeat. The question of whether Merkel would "hold on" in the face of the German far Right became a strategic variable.