1912 Lawrence Textile Strike

Mired in the recurrent nightmare that is Trump, it is hard to look back and take stock of what happened last week, let alone three months ago. Yet, looking back at Hillary Clinton's defeat, one may not only see the rising tide of Trump's hordes, but also the tragic fate of a liberal era. Nowhere is this clearer than in the contradictions embodied by Clinton's deeply personal but nonetheless strained relation to feminism. Not surprisingly, a broad group of radical and internationalist women are showing the way forward with a call for a feminism of the 99% and coordinating in the U.S. on March 8th with the International Women's Strike.

Even viewed from a radical perspective, responding on one hand to Clinton's loss and on the other to Trump's continuous appalling attacks, we can see Hillary Clinton defeat as having the features of a contemporary tragedy.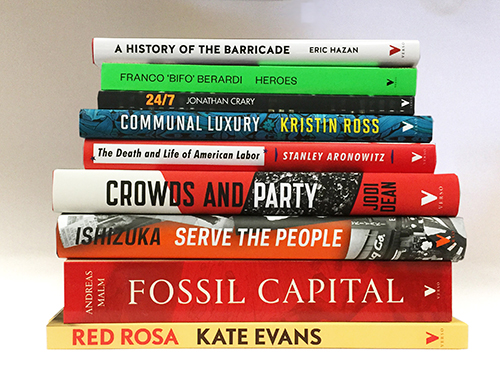 May 1st marks International Workers' Day, a festival of working-class self-organization stretching back over 130 years. It was originally inaugurated to commemorate the Haymarket Massacre of 1886 in Chicago, where a bomb thrown during a worker's strike kicked off a period of anti-labor hysteria.

May Day 2015 in London saw a rally of trade unions, migrant workers & London's many communities and other organisations finishing in Trafalgar Square. 2016 demos include speakers such as Yannis Gourtsoyhannia (from the Junior Doctor's dispute), Christine Blower (the General Secretary of the National Union of Teachers, to talk about the government's attacks on education), Frances O'Grady (TUC General Secretary), Jeremy Corbyn, and John McDonnell. See the full details here!

In New York there's a rally and march in Union Square on Sunday starting at noon, in Los Angeles there's a May Day March and Bernie Sanders rally on Saturday starting at 3pm, and in Oakland there's a rally at the Fruitvale Bart starting at noon. See an incomplete list of May Day activities here.

This May Day we bring you the following reading list, AND we're doing a FLASH SALE with 50% off all of them! Don't forget - we have free worldwide shipping and free bundled ebooks where available!

As we approach the end of the year we look back on a great year of publishing, from Patrick Cockburn's best-selling
The Rise of Islamic State
, to Kate Evans' 
graphic biography of Rosa Luxemburg
; from 
Walter Benjamin's Archive
in paperback, to 
Portraits: John Berger on on Artists
, a beautiful history of art by John Berger, from the Chauvet cave paintings to Cy Twombly, brought together by Tom Overton.
This blog post is split into sections - highlighted in red - such as Current Afffairs, Memoir, History, Theory/Philosophy, to help you find your favourite books!
AMERICAN POLITICS