On November 9th, Donald Trump was elected as the 45th President of the United States of America. Alain Badiou responded in a talk at the University of California, Los Angeles, co-sponsored by the pro­gram in Exper­i­ment­al Crit­ic­al The­ory and the Center for European and Rus­si­an Stud­ies. Below we share the transcript of his response, originally published at Mariborchan — an eloquent reflection not only on the specific events that unfolded last week, but on the situation of the world today.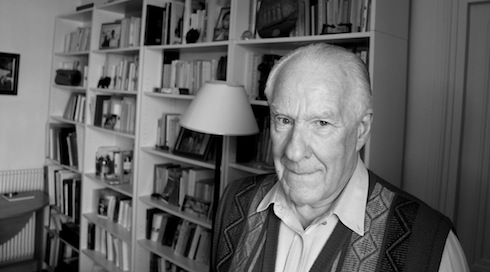 Entrevista realizada por Costas Mavroidis. Traducción al español por Miguel Ángel Guerrero Ramos. En Inglés.


El New Statesman dijo de él que era el heredero de Jean-Paul Sartre y Louis Althusser, poco después de la publicación de su obra La antifilosofía de Wittgenstein. En torno a su charla en el Instituto Francés de Grecia titulada ¿Cómo hacer política en la actualidad?, el sitio francófono GrèceHebdo concertó una reunión con Alain Badiou para discutir sobre la política, el comunismo y el amor.
Hay un gran número de temas que discutir en torno a Francia y el movimiento Nuit Debout. ¿Hay espacio para el optimismo en ese sentido? ¿Estamos viendo una reactivación de la política?
Te voy a dar una respuesta ambigua. En lo personal siempre me alegra cuando surge un movimiento social. Naturalmente prefiero que haya un movimiento a que carezcamos de los mismos. Desde ese punto de vista debemos reconocer el movimiento que mencionas. Un movimiento que se ha robustecido con el tiempo y al cual están llegando una gran cantidad de personas, ya sea para detenerse a echarle un vistazo o para hacer parte integra de él. Un movimiento en el cual todavía se encuentra un buen clima general de discusión. Y todo ello es positivo. Por otro lado, yo pienso que probablemente no acarreé transformaciones profundas para la situación política francesa, que yo designaría como una situación muy difícil o incluso congelada. De modo que no es una cuestión de buena o mala fe de los actores involucrados. Por ello mismo, la búsqueda de una nueva política en el contexto actual —algo que también derriba las políticas existentes— será un proceso bastante largo. De este modo, mientras que este movimiento es sin duda alguna positivo, no debemos esperar que pueda obtener resultados inmediatos de orden general.