Edwy Plenel, author of For the Muslims, calls for a vote against Le Pen and for Macron on May 7, not in order to endorse his programme, but for the sake of defending democracy as a space of free contestation, including in the face of the En Marche! candidate's own policies. First published in Mediapart, which Plenel founded.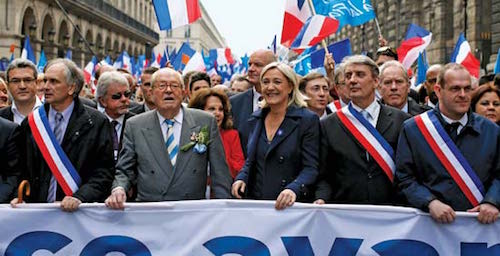 Marine and Jean-Marie Le Pen lead an FN march, 2014.

To vote against Le Pen by voting for Macron is not to vote for this latter's programme. It is to vote to defend democracy as a conflictual space, traversed by divergent interests and competing causes. A space where its contradictions, its pluralism, its diversity, its claims and its hopes can freely express themselves — including faced with the policies of a Macron presidency.
This post first appeared on Christine Delphy's blog. Translated by David Broder.


Philippe Barbarin, Archbishop of Lyon.
Neither Jean-Luc Mélenchon nor Emmanuel Macron know what laïcité [French state secularism] is. So Mélenchon believes that "schooling" is subject to "laïcité." No: the teachers are, because they are state employees; but not the service users, the students themselves. Which is why the 2004 law banning the headscarf does not conform to the 1905 laïcité law. Macron seems to be unaware that the State Council declared the "anti-burkini" decrees issued by certain mayors last summer to be invalid; he claims that "some of these decrees are justified" since they "target not any cultural issue, but a matter of public order." What "public order" is this? Do the women who wear a burkini disturb public order? No. Rather, the men and women who insult them are disturbing public order; it is not the victims who ought to be penalised.
This interview with Enzo Traverso was first published in L'humanité. Translated by David Broder. 



June 2015 press conference of far right 'Europe of Nations and Freedom' bloc within European Parliament. 

In his Les Nouveaux Visages du Fascisme, historian Enzo Traverso analyses the mutations of the European far Right movements that have emerged from "the fascist matrix."1 According to Traverso, the Left has to "offer political perspectives again" in order to occupy "the immense void" that is today being filled by both jihadism and a "post-fascism" that excludes Muslims.

Are Europe's far-Right movements (the AfD in Germany, the Front National in France, Jobbik in Hungary…) adopting the same codes as fascism or Nazism?

Enzo Traverso: First of all, these movements do share common traits, including their rejection of the European Union, their xenophobia and their racism, in particular in its Islamophobic dimension. Beyond these markers, we can see notable differences. There are clearly neo-fascist or neo-Nazi movements, like Golden Dawn in Greece, Jobbik in Hungary, etc., whose radicalism is often linked to the extent of the crisis, even if in Greece the rise of Syriza did put a lid on this dynamic. As for France, the Front National does have a fascist matrix, and there are certainly neo-fascists in the party, but its discourse is no longer fascist. After all, it has made a considerable effort at ideological mutation, and that is one of the keys to its success. If it still advanced neo-fascist arguments it would not get a hearing, and could certainly not hope to reach the second round of the presidential election.