First published in Le Monde Diplomatique. Translated by David Broder. 



Mélenchon rally, Lyon, February 2017. 

1. In the so-called "democratic" era, a system of domination is a paradoxical creature. It categorically refuses to recognise its own systemic character, precisely because this era purports to be "democratic." However, even to begin to challenge its vital interests immediately reduces this playacting to nothing, making its systemic character manifest again. Indeed, so much is this system a system, that it comes out of the register of denial only in order to fall into a register of hysteria. As soon as Jean-Luc Mélenchon's presidential bid became a serious possibility, leaving behind his outlandish fringe-candidate status, all the pretenses of upholding democracy, all the restraints of reasonable objectivity, instantly collapsed, ultimately allowing the system's true face to come to light: furious, and of one mind.
The Belgian philosopher Chantal Mouffe — a thinker who inspires French presidential candidate Jean-Luc Mélenchon — defended her project in a column appearing in the 15 April edition of Le Monde. Translated by David Broder.


Jean-Luc Mélenchon's breakthrough into third place in the presidential polls has unleashed a campaign by defenders of the status quo trying to pass him off as a "communist revolutionary." After long having dismissed Mélenchon, part of the press is now working to destroy the credibility of his programme, presented as the "cloud-cuckoo-land plans of the French Chávez."

Painted as a dangerous extremist, Jean-Luc Mélenchon is attacked by all those who think that there is no alternative to neoliberal globalisation. For them, democracy requires acceptance of the "post-political consensus" established among the centre-left and centre-right parties. Any questioning of this consensus must be the work of populist demagogues.
Socialist candidate Benoît Hamon's campaign is now at an impasse, because he couldn't see that the neoliberal fox would refuse to accommodate to the socialist hen, while Mélenchon takes an opposing strategy, write Cédric Durand and Razmig Keucheyan. First published in Libération. Translated by David Broder.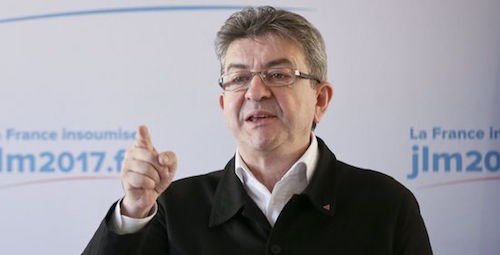 Elections were for long time rather boring. Carried forth by a liberal wind, there was a seamless exchange of office between the self-assured Right and the lightweight Left — these wholehearted converts to market modernisation — in the eternal present of capitalism. Capitalism had been made master of a globalised space and a financialised time. Endemic unemployment, consumerist exultation and terrorist/criminal horror made up the three dramatic extremes of a little game buzzing along, spiced up only by the candidates' antics or the scenes made by betrayed friends.