The outrage, fear and depression after Trump's inauguration is palpable everywhere. Trump's first acts in office, moving to dismantle the Affordable Care Act, signing an anti-abortion Global Gag Rule, and reviving plans to build the Keystone XL and Dakota Access pipelines, signal that he will be as dangerous a leader as we expected. The 2.9 million people who marched around the country as part of the Women's March on Washington on January 21st send an inspiring message that many are galvanized to fight Trump's hateful policies. But this is the very beginning of what will be a long and painful fight.

We must never give in to despondency and futility, rather we must learn from the revolutionary movements of history and mobilize together against Trump's regime of oppression.

We present this reading list as a useful starting point for anyone sharing in our overwhelming sense of anger and despair at our present crisis, and anyone looking for hope and inspiration in the resistance movements of the past and the organizing strategies of the present.
Download our free ebook, The Anti-Inauguration: Building Resistance in the Trump Era, here.

A flash panel to address the questions surrounding Donald Trump's election victory.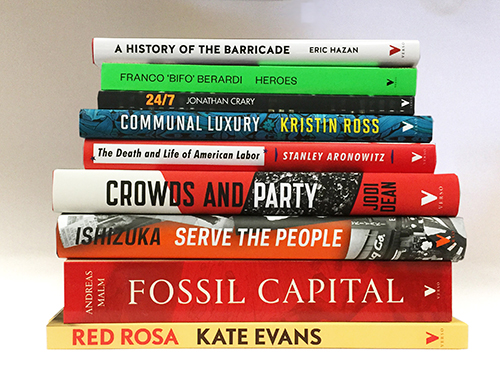 May 1st marks International Workers' Day, a festival of working-class self-organization stretching back over 130 years. It was originally inaugurated to commemorate the Haymarket Massacre of 1886 in Chicago, where a bomb thrown during a worker's strike kicked off a period of anti-labor hysteria.

May Day 2015 in London saw a rally of trade unions, migrant workers & London's many communities and other organisations finishing in Trafalgar Square. 2016 demos include speakers such as Yannis Gourtsoyhannia (from the Junior Doctor's dispute), Christine Blower (the General Secretary of the National Union of Teachers, to talk about the government's attacks on education), Frances O'Grady (TUC General Secretary), Jeremy Corbyn, and John McDonnell. See the full details here!

In New York there's a rally and march in Union Square on Sunday starting at noon, in Los Angeles there's a May Day March and Bernie Sanders rally on Saturday starting at 3pm, and in Oakland there's a rally at the Fruitvale Bart starting at noon. See an incomplete list of May Day activities here.

This May Day we bring you the following reading list, AND we're doing a FLASH SALE with 50% off all of them! Don't forget - we have free worldwide shipping and free bundled ebooks where available!