This post by Tithi Bhattacharya is adapted from a longer essay forthcoming in Cultural Dynamics.



Trump and basketball coach Bobby Knight at an Indiana campaign appearance.

The morning after Trump won, the Washington Post led with the story that the president elect had won 58 per cent of the White vote, outperforming "in majority-white areas." Similarly, the Guardian embellished on this bete noir of the "white working class": Apparently it was the "angry" white working class that helped Trump to a "stunning win".

Undoubtedly sections of the white working class voted for Trump. The day after the election results, in an effort to document the moment, I spoke with a range of working class women in Indiana. Some of their comments on Trump capture the deep veins of contradiction that ran through sections of the US working class who voted for Trump.
A special Red Flash-Sale, 50% off these selected books (with free worldwide shipping) until Feb 15, midnight (UTC).

Click here to activate your discount.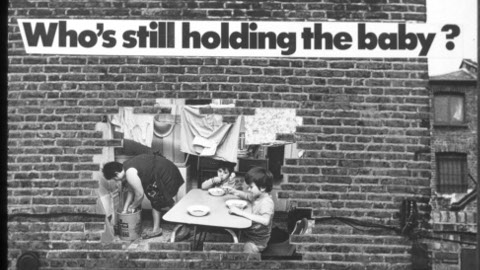 - Hackney Flashers, Who's still holding the baby?, 1978

They say it is love. We say it is unwaged work.
They call it frigidity. We call it absenteeism.
Every miscarriage is a work accident.
- a feminist pamphlet calling for Wages for Housework written by Silvia Federici in 1975.