This piece first appeared in Jacobin.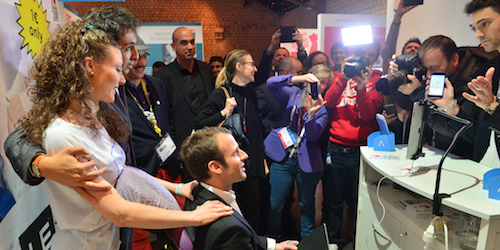 via Flickr. 

The French presidential election later this month will be a major turning point in the country's political history. Beyond the campaign's many twists and turns — from François Hollande's decision not to stand for reelection to the collapse of the mainstream right's candidate, François Fillon — the fact that the two candidates most likely to face off in the second-round elections — Emmanuel Macron and Marine Le Pen — do not belong to either the Socialist Party (PS) or Les Républicains (LR) represents a historic development.

Since the Fifth Republic formed in 1958, the PS and LR — or any one of the various Gaullist rights — have alternated power. This year, either social-liberal Macron, from the year-old party En Marche!, or far-right Marine Le Pen of the National Front (FN) will likely become president. Every pollster predicts Macron will win in a second round runoff.
David Broder's report on the French presidential election was first published in Political Critique, prior to yesterday's first round.  




Without doubt the French election promises a political shake-up. The governing Socialist Party is at just 8% in the presidential poll while all four leading candidates vying to replace François Hollande declare themselves the challengers to "élites," or even to be "anti-systemic." Certainly the candidates are keen to represent a clean break with the record of both the Hollande and Sarkozy presidencies, associated with continual economic crisis as well as the insecurity attached to the mounting war on terror. Yet the "battle against élites" increasingly appears as a mere marketing strategy, the supposed fight against "vested interests" able to cover all manner of sins, or indeed, vested interests.