Former L'Obs journalist Aude Lancelin describes how how the En Marche! candidate was utterly fabricated by media in capital's hands. First published on Agoravox, 21 April, prior to the first round vote.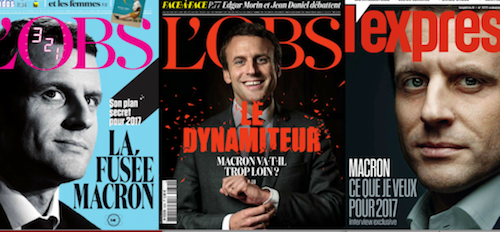 It was late last year, and I had just handed in the manuscript for Le Monde libre (on my eviction from L'Obs). My gaze wandered to the 24 hour news channel BFM TV images, amidst what remained of a Paris heatwave that had just recently finished. That was when I suddenly understood that 2017 would be a terrible year, and that the coming presidential election would not resemble anything this country had ever seen before. The country's leading rolling news channel, the flagship of Patrick Drahi's Altice-SFR group,was certainly not cutting any corners that 30 August 2016. Everything was laid on to cover a quite considerable event, just imagine it: the resignation from the Economics Ministry of a young gun of Hollandism, who even two years previously had still been almost unknown to the public. A scoop of planetary importance, we could see, which certainly merited the general mobilisation of all the teams working for the channel owned by this French telecoms billionaire.
John McDonald's conversation with Clément Petitjean — doctoral candidate in American civilization in Paris and a member of Ensemble! — on the French presidential election was first published on the Haymarket Books blog.




John McDonald: I'm hoping that you can start by giving a little bit of context. What were the driving forces of this election, what were people thinking about, and what led people to support the candidates they did? 

Clément Petitjean: I would say what's most striking about the election is that nothing happened the way it should have. The first sign of something strange was in December when the incumbent, François Hollande, who was elected in 2012 against Sarkozy, decided to step aside and not run for reelection. This is unprecedented since the foundation of the Fifth Republic in 1958.