"If I told you eight years ago that America would reverse the great recession, reboot the auto industry, and unleash the greatest stretch of job creation in our history ... you might have said our sights were set a little too high." Thus boasted the former US president Barack Obama in his farewell address. But is the financial crisis really behind us? Has the strategy implemented to save the banks not, on the contrary, created the conditions for the next conflagration? Cédric Durandwrites.

An abbreviated version of this article appeared in the February 2017 Le Monde diplomatique. Translated by David Broder.
Figure 1: GDP growth in the advanced economies

Happy anniversary! On 2 April 2007, New Century Financial Corporation entered into liquidation. The collapse of this US real estate investment company — the second biggest provider of the now-infamous subprime mortgages — fired the starting gun on a financial crisis bigger than any the world had seen since 1929. Ten years on, capitalism is still yet to recover from this major shock. Growth is sluggish, under-employment endemic and the extreme monetary policies implement by central banks are reaching their limits.
This post first appeared at Research & Destroy.




We can imagine a person slowly becoming aware that he is the subject of catastrophe. The form of consciousness might be likened to someone peering out the window of a plane. They have been aboard for a long time, years, decades. From cruising altitude the landscape below scrolls past evenly, somewhat abstracted. The stabilizing mechanisms of eye and brain smooth the scene. Perhaps they are somewhere above the upper midwest. Their knowledge of the miseries that have seized flyover country hovers at the periphery of a becalmed boredom. Steady hum of the jet engines, sense of stillness. Borne by prevailing winds the first balloonists detected no wind whatsoever. So this flight. Though the passengers will never travel faster than this they scarcely feel any motion at all.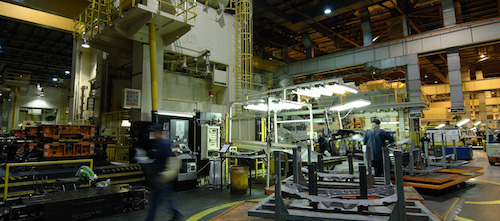 Nissan plant, Smyrna, TN.

The 2016 election was primarily a referendum on US trade and immigration policies. Trump's case, insofar as one could be found amid all his bloviating, was something like the following: the US sent jobs abroad at the same time as it let workers in from Mexico, and that has been bad for most Americans. It's worth remembering that Trump began his campaign by attacking financial elites, who, he said, had paid off the politicians to keep this con act going. Since Trump is so rich, he won't have to take their bribes. He'll renegotiate.

Well, it doesn't take a degree in political science to predict that Trump will fail to "make America great again." In all likelihood, the real winners here will be the traditional constituencies of the Republican Party: big business and social conservatives. Everyone else will lose. Meanwhile, Trump will use the presidency to hound his enemies and expand his personal wealth. And that's the best case scenario.