In The Imperial Archive: Knowledge and the Fantasy of Empire, published by Verso in 1993, Thomas Richards analyzes the proliferation of information systems in the British Empire, and the ways in which this link between state power and the measurement of fact were expressed in literature.

"Most Victorian epistemologies presupposed a superintending unity of knowledge," Richards writes. "A comprehensive knowledge of the world was for most of the century the explicit goal of all forms of learning." Later in the introduction, he continues: "this system-building impulse was the imperial archive's greatest inheritance from a philosophical tradition that posited a universal and essential form of knowledge, the tradition of Leibniz and Kant and von Humboldt, but it also took much the same ideas from a source nearer to hand, English Romanticism."

In the excerpt below, Richards considers three narratives of monstrosity — Lewis Carroll's Alice novels, Bram Stoker's Dracula, and J.G. Ballard's The Crystal World — in the context of the evolution of the science of morphology.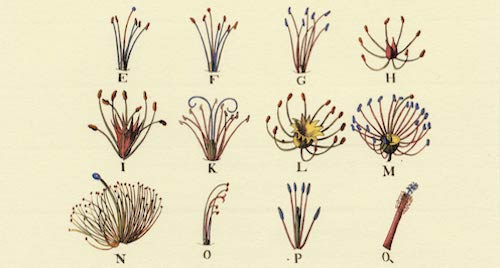 Detail from Georg Dionysius Ehret's illustration of Linnaeus's sexual system of plant classification, 1736. via the Linnean Society of London.

This chapter is about the place of monstrosity in the nineteenth-century imperial imagination. Until Bram Stoker's Dracula, there are few monsters in Victorian fiction. In Victorian literature ghosts, those images of a nether world replete with human significance, are more common than monsters, and it is worth asking why. Victorian travellers like Richard Burton and Henry Stanley never saw monsters. In his Voyage of the Beagle (1831-36) Darwin travelled around the world without seeing one. Thomas Henry Huxley doubted whether monsters ever existed, even in the distant past. In Poe "monstrous" is always an adjective, never a noun, and monstrosity resides in the behavioral perversions of the self, as it does in Lombroso, where the monster is the criminal. In Victorian gothic it is the natural landscape that is monstrous. Even in the murky world of imperial gothic, as in Haggard's She (1887), there are no monsters of nature save for a woman who lives on eternally in a dead city. Why are there no monsters in Victorian literature?
Continued from Parts I and II.



III.

In the science of form, the ancient distinction between forma and materia remained in force well into the twentieth century. Aristotle had held that there could be form without matter, though no matter without form. As late as the 1940s Joseph Needham was still criticizing morphologists for devoting themselves to the study of living form "without much consideration of the matter with which it is indissolubly connected." The classic texts of morphology do focus almost exclusively on the stately progress from form to form. Whether they deal with continuous or discontinuous change, the morphologists all end up by positing a structural stability in which forms join at specific junctions to compose the pattern of a whole. In On Growth and Form, D'Arcy Thompson devotes almost no space to the particular forces that cause forms to change. Nor does the scientist in Dracula take any interest in the material composition of his monster of mutation; Dracula exists for Van Helsing not as a chemical substance but as a continuum of changing forms. Form in morphology is almost entirely a matter of aesthetics, and the assumption joining all morphological thought is that all forms must turn out in the end to be beautiful, however violently they may at first jar the conventions of perception (even vampires appear at beautiful ease in their final moment of destruction). Over time the science of form has supplied a variety of aestheticisms with a basic lexicon of beauty, the vocabulary of ideal design, even as it extended the domain of the aesthetic to include new shapes of life and death.
Dalia Gebrial responds to a history of women's movements to ask how a transnational feminist politics of solidarity can change and embolden our vision of the world. 

The question of transnational solidarity has progressively faded away from the realm of feminist conversation. The idea of intersectionality – a powerful descriptor of how seemingly circumscribed systems of oppression operate through and alongside one other – has been reduced to representative diversity politics: a coalition of limited but energy-consuming practices of privilege-checking and callouts; a seemingly immovable emphasis on bodies and checklists as the prime marker of Good Praxis. Solidarity has been supplanted in favour of 'allyship' and 'standing aside'. Creating spaces of self-determination has been neutralised into creating spaces of safety. Only the personal can be political.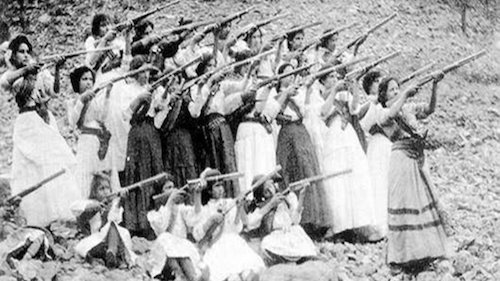 Rani of Jhansi Women's Regiment of the Indian National Army, training, early–mid 1940s. via End of Empire.