Capital could not just abolish the gains of the postwar period. It was necessary to preserve social peace. The "trick" in the 1970s consisted of using inflation to defuse the emerging conflict between labour and capital over redistribution. The money machine was used to compensate for the loss of income which resulted from the reduction in capital's contribution to the welfare state… Evidently, that could not last. So from the late 1970s inflation was replaced with public debt, and states borrowed (rather than tax) in order to be able to keep up the level of services. Then, in the 1990s, when states began to worry about the growing weight of debt servicing as part of their budgets, and reduced their spending (and thus social services) we took recourse to private debt. In other words, we made it easier than ever for households to take on debt so that they could preserve their purchasing power, which was being cut back by these budget consolidation measures. And that led us to the 2008 catastrophe.
In any case, what sticks out amidst this mass vote is a feeling of absurdity. The absurdity of a mechanism that brings to power a man we know nothing about, and who has grounded his success precisely in his capacity to say nothing (the back cover of his book Révolution has not one line of text, but just a full page photo of Macron himself). The absurdity of a system that gives a crushing majority to such a man, in order to avoid a danger that is largely imaginary. Most of all, the absurdity of a focus on elections that we all feel have nothing to do with our lives, and which we all feel are playing out on a sort of flying carpet, above our heads.
Former L'Obs journalist Aude Lancelin describes how how the En Marche! candidate was utterly fabricated by media in capital's hands. First published on Agoravox, 21 April, prior to the first round vote.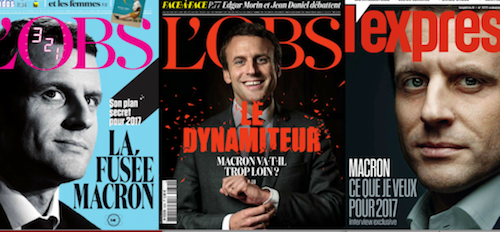 It was late last year, and I had just handed in the manuscript for Le Monde libre (on my eviction from L'Obs). My gaze wandered to the 24 hour news channel BFM TV images, amidst what remained of a Paris heatwave that had just recently finished. That was when I suddenly understood that 2017 would be a terrible year, and that the coming presidential election would not resemble anything this country had ever seen before. The country's leading rolling news channel, the flagship of Patrick Drahi's Altice-SFR group,was certainly not cutting any corners that 30 August 2016. Everything was laid on to cover a quite considerable event, just imagine it: the resignation from the Economics Ministry of a young gun of Hollandism, who even two years previously had still been almost unknown to the public. A scoop of planetary importance, we could see, which certainly merited the general mobilisation of all the teams working for the channel owned by this French telecoms billionaire.