Former L'Obs journalist Aude Lancelin describes how how the En Marche! candidate was utterly fabricated by media in capital's hands. First published on Agoravox, 21 April, prior to the first round vote.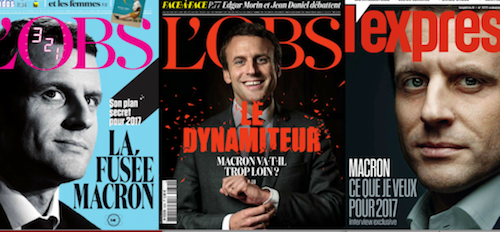 It was late last year, and I had just handed in the manuscript for Le Monde libre (on my eviction from L'Obs). My gaze wandered to the 24 hour news channel BFM TV images, amidst what remained of a Paris heatwave that had just recently finished. That was when I suddenly understood that 2017 would be a terrible year, and that the coming presidential election would not resemble anything this country had ever seen before. The country's leading rolling news channel, the flagship of Patrick Drahi's Altice-SFR group,was certainly not cutting any corners that 30 August 2016. Everything was laid on to cover a quite considerable event, just imagine it: the resignation from the Economics Ministry of a young gun of Hollandism, who even two years previously had still been almost unknown to the public. A scoop of planetary importance, we could see, which certainly merited the general mobilisation of all the teams working for the channel owned by this French telecoms billionaire.
This piece first appeared in Jacobin.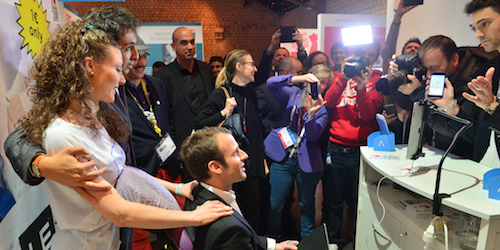 via Flickr. 

The French presidential election later this month will be a major turning point in the country's political history. Beyond the campaign's many twists and turns — from François Hollande's decision not to stand for reelection to the collapse of the mainstream right's candidate, François Fillon — the fact that the two candidates most likely to face off in the second-round elections — Emmanuel Macron and Marine Le Pen — do not belong to either the Socialist Party (PS) or Les Républicains (LR) represents a historic development.

Since the Fifth Republic formed in 1958, the PS and LR — or any one of the various Gaullist rights — have alternated power. This year, either social-liberal Macron, from the year-old party En Marche!, or far-right Marine Le Pen of the National Front (FN) will likely become president. Every pollster predicts Macron will win in a second round runoff.
First published in Le Monde Diplomatique. Translated by David Broder.




"I'm going to be very clear..." Probably ignorant of the basic logics of the symptom, Emmanuel Macron seems unable to see how this repetitive way of starting each of his answers betrays the deep desire to cover things up — or rather, to recover them — that animates his whole campaign. "Keep on bathing between vagueness and nothingness" — that is what we should take from each of his promises of clarity. In his defence, we will admit that deferring to the obligation to speak when one's intention is to say nothing at all is one of the curses of this "democracy" that we have still found no satisfactory antidote for. Some will object that most of the candidates end up accommodating to this long and difficult moment — a moment one simply has to go through — and that the campaign-season fib is a well-established genre which should no longer be able to surprise anyone. For Macron, however, the problem takes on unprecedented proportions: not just a matter of slipping across a couple of whoppers, even of the calibre of "my enemy is finance" [as François Hollande claimed before his election in 2012]: rather, his entire campaign, and even his very persona as a candidate, constitute an essentially fraudulent enterprise.