This essay by George Ciccariello-Maher was written for arranca! issue #51 (forthcoming), to provide an overview for a German-speaking audience on the dynamics behind Trump's election and the resistance to his presidency.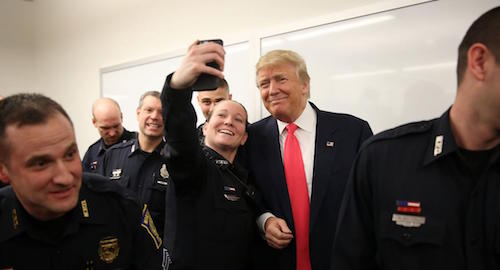 With the election of Trump, the tempo of our collective disaster has shifted dramatically. Rather than the slow-rolling nightmare of Clintonite neoliberalism, for which Obama was more continuity than respite, this nightmare has suddenly shifted into high-gear with each new day bringing — via a string of brutal executive orders — a new hell to ponder, lament, and resist.

How did we get here? The debates are seemingly interminable and inevitably self-serving.
This post first appeared at Research & Destroy.




We can imagine a person slowly becoming aware that he is the subject of catastrophe. The form of consciousness might be likened to someone peering out the window of a plane. They have been aboard for a long time, years, decades. From cruising altitude the landscape below scrolls past evenly, somewhat abstracted. The stabilizing mechanisms of eye and brain smooth the scene. Perhaps they are somewhere above the upper midwest. Their knowledge of the miseries that have seized flyover country hovers at the periphery of a becalmed boredom. Steady hum of the jet engines, sense of stillness. Borne by prevailing winds the first balloonists detected no wind whatsoever. So this flight. Though the passengers will never travel faster than this they scarcely feel any motion at all.
Today marks the 169th anniversary of the publication of one of the most influential documents in world history: The Communist Manifesto. In this introduction to the new edition, published alongside Lenin's April Theses, Tariq Ali contextualises the period—the eve of the 1848 revolutions—in which Marx and Engels penned their masterpiece and argues that it desperately needs a successor.