This interview with Enzo Traverso was first published in L'humanité. Translated by David Broder. 



June 2015 press conference of far right 'Europe of Nations and Freedom' bloc within European Parliament. 

In his Les Nouveaux Visages du Fascisme, historian Enzo Traverso analyses the mutations of the European far Right movements that have emerged from "the fascist matrix."1 According to Traverso, the Left has to "offer political perspectives again" in order to occupy "the immense void" that is today being filled by both jihadism and a "post-fascism" that excludes Muslims.

Are Europe's far-Right movements (the AfD in Germany, the Front National in France, Jobbik in Hungary…) adopting the same codes as fascism or Nazism?

Enzo Traverso: First of all, these movements do share common traits, including their rejection of the European Union, their xenophobia and their racism, in particular in its Islamophobic dimension. Beyond these markers, we can see notable differences. There are clearly neo-fascist or neo-Nazi movements, like Golden Dawn in Greece, Jobbik in Hungary, etc., whose radicalism is often linked to the extent of the crisis, even if in Greece the rise of Syriza did put a lid on this dynamic. As for France, the Front National does have a fascist matrix, and there are certainly neo-fascists in the party, but its discourse is no longer fascist. After all, it has made a considerable effort at ideological mutation, and that is one of the keys to its success. If it still advanced neo-fascist arguments it would not get a hearing, and could certainly not hope to reach the second round of the presidential election.
An economics professor at London's School of Oriental and African Studies, Costas Lapavitsas (born 1961) visited Barcelona last week to present his latest work, Eurozone Failure, German Policies and a New Path for Greece. In this text he advocates Greece leaving the euro, as an instrument for overcoming the country's crisis. Critical of Alexis Tsipras, Yanis Varoufakis and Syriza (he had been an MP for the party before the third deal with the Troika), Lapavitsas is conscious that his positions regarding the EU and the euro are still in the minority among European progressives. Nonetheless, he believes that "the first step for the Left is to say that the currency union has to end."

Oriol Solé Altimira's interview with Lapavitsas was first published in El Diario. Translated by David Broder.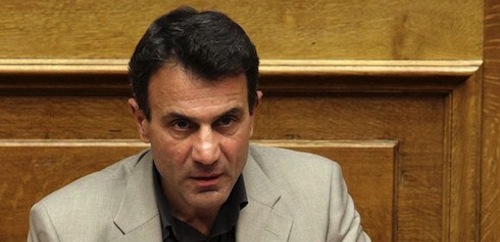 A year ago you were in Madrid for the presentation of the Plan B for Europe. How do you think that this initiative has developed?

The Madrid discussions were interesting, because a lot of people came and there was a good atmosphere. Nonetheless, they were politically confused, because various ideas were presented on what the Left ought to do about Europe, without any concreteness. People still think that it is possible to change the European Union. One year later, I think that this position has lost supporters. More people have realised that if we want an alternative, a different path or different strategy, we have to take radical steps also with respect to the institutions and the EU.